Vice Ganda backs 2022 senatorial bid of Atty. Chel Diokno
https://twitter.com/ikarisbudd/status/1438111748989472774
Chel Diokno received early support from Vice Ganda after announcing his senatorial bid for the 2022 elections.
Last Wednesday, September 15, the human rights lawyer took to his social media accounts to announce his bid.
Evidently, he said,
"Yes, tatakbo ulit ako sa Senado. Napakaraming bagay ang hindi patas dito sa atin—sa batas, sa ekonomiya, sa mga patakaran sa COVID. Gawin nating mas makatarungan ang buhay ng mga Pilipino,"
A support from Vice
Then, Diokno received messages of support regarding his intention to run, including one from the Phenomenal Box Office Star.
Hence, Vice wrote a simple tweet to express his support.
Indeed, he tweeted,
Furthermore, the comedian-host made a TikTok video, repeatedly saying Diokno's name.
Moreover, in the September 16 episode of It's Showtime, Vice mentioned Diokno once more.
During the episode, he described him as his "favorite lawyer."
Character development?
Netizens expressed shock and elation towards Vice's support towards Diokno, with some saying it's part of his character development, as he was previously known as a supporter of President Rodrigo Duterte.
However, unbeknownst to some, Vice previously endorsed Diokno during the 2019 senatorial elections.
Hope for the coming elections
Moreover, netizens have expressed hope with Diokno's bid through Vice's support.
See Also
Hence, some said this might reach more members of the masses with his huge platform.
Also, Vice is not the only celebrity to express his support for the lawyer.
Moreover, Enchong Dee and Saab Magalona voiced their moral support regarding Diokno's announcement.
Additionally, Diokno announced his bid as an independent candidate, as of writing.
Last 2019, he affiliated with the Liberal Party's Otso Diretso coalition alongside Mar Roxas, Samira Gutoc, and Bam Aquino, among others.
During the elections, he placed 21st overall, unable to clinch one of twelve senatorial seats.
Lastly, we ask this. What are your thoughts on Vice's support for Chel Diokno? Have you registered to vote? Let us know!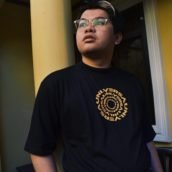 Kobe Adam Joshua Laurena
Kobe Adam Joshua Laurena is a writer who loves to tell stories from the perspectives of different people and everyday life. Apart from the pen, he loves to pick up the lipstick to transform into his frustrated drag persona: Anita Good Lovin'. He aspires to combine his love for writing and drag by creating a novel, short story, or screenplay about local drag queens in the future. He also has an obsession with sitcoms, women's pro-wrestling, and Funko Pops.