Whether as a quick snack or an easy meal on a busy day, instant noodles remains a favorite food of many people. Of course, regardless of age, gender or nationality. You can find just about any flavor to satisfy your taste buds, from spicy to seafood, and even cheese. There are also instant versions of favorite noodle dishes from around the world, including ramen, laksa, and soba. TikTok brings you instant noodles like you've never seen before!
Just in time for National Instant Noodle Day on April 11, we've rounded up some unique takes on it that foodie creators have shared on TikTok. These becomes perfect for #SummerEats, too. Especially for those looking for food ideas beyond the usual cold, fruity fare that is popular during the summer months. Get your water boiling, and your tastebuds ready for these creative instant noodle dishes!
TikTok reinvents recipes for instant noodles for a perfect #SummerEats
Pizza
https://www.tiktok.com/@maderhoodskitchen/video/6941269373172714753
Noodles as pizza crust? Of course, this TikTok foodie mom can make it happen!
Sushi Roll
https://www.tiktok.com/@hazelcheffy/video/6943195534807026945
Do you also enjoy fusion food? Try this Filipino-meets-Japanese, noodle-filled sushi roll recipe.
Cheesy Ramen
https://www.tiktok.com/@kathlynvalencia/video/6946823117687753985
Then, this hearty leveled-up version of cheese ramen has shiitake mushrooms, sausages and egg.
Bacon and Egg Waffle Ramen
https://www.tiktok.com/@haingpinoybykat/video/6943126510979009794
Ever wondered if you can cook ramen in a waffle maker? You can also try out this recipe.
Bread Roll
https://www.tiktok.com/@thefoodadvenchers/video/6943578504424377601
Pinoys love eating instant noodles with bread. This dish also takes the classic pairing to a whole new level.
#SummerEats
TikTok has remained great creative platform where foodies can express themselves through their cooking content. More and more creators share their recipe videos featuring the best dishes to indulge in over the summer, using the #SummerEats. This hashtag now has over 253M views on the app.
You, too, can share your own unique and creative #SummerEats videos. Or, check out the best ones on TikTok, and try making them yourself. You can also download TikTok on your iOS and Android devices today to get started.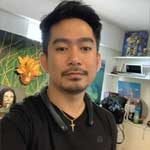 Josh Austria
Aside from being a businessman, Josh Austria has been working in PR and media industry for more more than a decade. From his years of experience as the Marketing and Advertising Head of Village Pipol Magazine, he has built strong relationships with creative people, brands, and organizations.