Image by Alex Dos Diaz © The Balance 2019
2020 and pandemic became a huge eye-opener for us about several things in our lives. This includes how we deal with our finances.
So the thing is, we have to improve our financial management for the better so if there will be a crisis in the future, it wouldn't be so bad. There will still be an effect but we can minimize it by preparing. Here are some ways to do that:
Build an emergency fund good for a year
Usually, money gurus advise working professionals to save for emergencies like in case they lose their jobs or have to take rest from work because of sickness. But three or 6 months is not good enough during a pandemic. A registered financial planner said that one year's worth of emergency funds is necessary for times like these.
Enroll in a bank with an automatic deduction service for savings
Technology can now such a big help to tighten your purse and save for the future. There are banks now that offer an automatic transfer of a specific amount of money to your savings account. Yes, you must have a separate payroll account and savings account in order to do this. In this way, you'll have to budget whatever is left from your payroll account and guarantee that you save every payday.
Invest properly and wisely
Investing is really a big step for anyone so you must plan beforehand before deciding to do it. First, you must have to make sure that you already cleared out your debts. Second, is securing your emergency funds just like the first advice. Third, determine what kind of investor you ate and your strategies as well.
Financial planners encourage newbies to purchase an index fund at first. This allows diversification across the country's best companies with just a little capital. It's also good to review investment advisories from government agencies like the Securities and Exchange Commission, Bangko Sentral ng Pilipinas, and the Department of Trade and Industry.
The most important is, don't invest in something you don't fully understand because your money may go down the drain quickly.
See Also
Starting an online business
For those who are planning to start a business venture this year, it's better to go online. One of the benefits of an online business is that you don't have to rent a physical store. You can make your products in the comfort of your own home. With many eCommerce platforms like Shopee and Lazada, you can market your items effectively.
Aside from that, sellers must take advantage of delivery services from Grab, Lalamove, and Mr. Speedy. A lot of Pinoys prefer online shopping because it's safer and it can save them time and effort.
What other tips you can add here?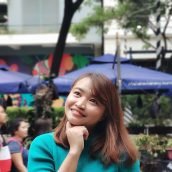 Queenie Lastra
Queenie Lasta got her bachelor's degree in Communications Research from UP Diliman. In her free time, she likes to read thriller novels, psychology books, and mangas. She believes in the importance of grit, hard work, and passion to become a great writer in the future.