Landing page designs have made their way as a source of income in the country.
Businesses have been hugely affected by the COVID-19 pandemic, but on the other hand, it gave reason for them to venture into the online world.
Because of the internet – it made everything more accessible.
E-commerce has boomed to cater the stay-at-home folks. It also gave businesses the access to find talents globally.
With all the businesses and brands venturing into the online world – how would they stand out and acquire customers?
Most of these businesses rely on using digital advertising.
But the cost of digital advertising is increasing and becoming competitive by the day – having a website and a boosted post on social media is no longer enough.
To lower their advertising cost, they'd have to have a channel where they can collect the email addresses of their customers so they can follow up with them.
And that's where the Conversion-centered Landing page comes in.
Currently, the demand for conversion-centered landing page design continues to increase, but being able to design such, persuasive design principle knowledge is needed.
Luckily, Filipino creatives can learn these principles and the process itself from Conversion Designers Philippines.
It is established by educator and agency owner Errol Tiozon.
What is Conversion Designers Philippines?
It is a community that teaches the A-Z of landing page design and will take even a complete beginner and transforms them into a highly-paid and world-class landing page designer.
How this community helped these members who happily shared their success stories:
Mary Grace Bibal – a former teacher who was able to make 100Kphp in 2 days of her  designing:
"One reason bakit nakakapag-charge kami ng asawa ko ng malaki sa pag offer ng landing page design is because the clients see us as an expert. Which all of the skills galing sa Conversion Designers Philippines. Kaya sobrang thankful talaga sa mga videos, nandoon na kasi lahat."

Lallie Anne Papa – a former Airport Ground attendant who's making $1,000 for her designer job:

"Just wanna say thank you for all the value bombs and real talks. I just closed my first ever $1,000 landing page project. I thought impossible akala ko mgstay nalang ako sa $500-$700 range. (limiting beliefs lol). But I did it! And you're a big part of that."
Khate Contreras – Pharmacist turned page designer is charging $3500 minimum:

"Recently may naclose akong client, 1 landing page, 1 opt in, 1 sales page for USD 3500. GRABE TALAGA ANG MGA TINUTURO NYO SA CDPH. Matagal ko na kinakausap si client, mga may palang nagreach nako via OLJ, nagbackread ako, nakita ko ginamit ko pala scripts mo hahaha kaya pala di man lang ako nagpakita ng portfolio"
So what is it really that you can learn from the Conversion Designers Philippines community?
Here's an overview of what they're teaching:
Exclusive access to 70+ video lessons on how to be a highly paid landing page designer (more videos coming..)
Landing Page Design Business Overview
Foundations of Freelance Design Business
Best Practices of Designing Landing Pages
Step-by-Step Tutorial on Building Landing Pages
Landing Page Audit Best Practices
Advance Client-Getting Strategies
Sales & Negotiation Advance Strategies
Monthly Masterclasses & Expert Sessions
Access to Exclusive Discord Server
When asked for his plans this coming 2022, Errol said,
"There's so much content to create in the future. I'm probably thinking of adding lessons on how landing page designers can build a passive income with landing page builders."
Additionally, Errol is also offering a free video training seminar on how to become a 6-figure landing page designer at https://optin.conversiondesigners.ph/msgr-lp-intro-2
You can also visit his Youtube channel as he constantly shares some freelancing tips there.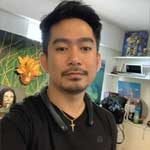 Josh Austria
Aside from being a businessman, Josh Austria has been working in PR and media industry for more more than a decade. From his years of experience as the Marketing and Advertising Head of Village Pipol Magazine, he has built strong relationships with creative people, brands, and organizations.