Heart Evangelista ventures into NFTs, to release first project in November
Heart Evangelista's recent project in the realm of the arts has been making non-fungible tokens (NFTs).
On Instagram, last Wednesday, October 20, the actress announced her collaboration with fellow Filipino artists for her first digital NFT.
While posting a photo of herself painting, she explained to followers how she has been studying NFTs, explaining,
"It's a new kind of digital art that is secured by blockchain technology and can take many digital forms including art, videos, and music. Basically, anything that can be stored digitally can be made into an NFT!"
Moreover, Heart said,
"These are really cool because they let a buyer prove that they are the true owner of a piece of art even if the art can be freely viewed by the public online. It's such an interesting combination of art and technology that lets artists express themselves in a whole new way!"
Furthermore, she revealed how she collaborated on her first digital art piece with NFT artist Luis Buenaventura and Manila Philharmonic Orchestra composer Rodel Colmenar.
"It's such a thrill to work with these talented artists to bring these NFT pieces to life and I'm so excited to share them with you […] starting on November 4."
Apart from acting, Heart also does painting, known for holding solo exhibits of her art.
See Also
Last May 2020, she donated one of her paintings for a fundraiser for medical frontliners.
On the other hand, on Independence Day this year, Heart hand-painted a handbag showcasing Filipino culture.
Also, she recently worked with Incubus lead vocalist Brandon Boyd in a collaborative project announced last May.
The two gave glimpses of some pieces of their art collection last June.
We cannot wait to see your first NFT, Heart!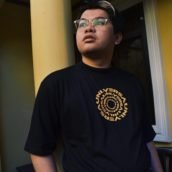 Kobe Adam Joshua Laurena
Kobe Adam Joshua Laurena is a writer who loves to tell stories from the perspectives of different people and everyday life. Apart from the pen, he loves to pick up the lipstick to transform into his frustrated drag persona: Anita Good Lovin'. He aspires to combine his love for writing and drag by creating a novel, short story, or screenplay about local drag queens in the future. He also has an obsession with sitcoms, women's pro-wrestling, and Funko Pops.