Cristine Reyes revealed how she had a traumatic childhood because of her biological mother.
The actress opened up about the situation in an interview with Filipino-American entrepreneur Liza Florida.
Feeling unwanted
For the latter's podcast Eight Billion Project last Wednesday, October 20, Cristine described how she felt "unwanted" growing up.
Furthermore, she added how a "loving" adopted family took care of her before her biological mom took her at six years old.
Despite her mom having a huge house, Cristine felt unwelcomed in her own mother's house, saying,
"Ever since I moved to my biological mom, I felt that I didn't have a voice. So, as much as possible, I don't really talk."
Moreover, she recounted the hurtful childhood experiences she had, specifically when her mom revealed she wanted to abort her.
"I was very neglected when I was a child at six years old. I remember when there's a problem, I would constantly hear [the] words 'You know, you should have died. You never should have been born, I tried so many times to abort you.'"
Always in 'survival mode'
Cristine added how growing up with her biological mom always put her in "survival mode."
"I had to survive. I was always in survival mode during my early childhood. That's when it started. I always wanted to be alone because when I'm alone, I'm safe."
Then, she became resentful growing up, becoming jealous of other kids' loving mothers.
"Even in school, whenever I see my classmates with their mom in school [and] I carried it in my career, in the showbiz industry."
Because of her traumatic childhood, she revealed she turned to bad behavior as she could not let out her feelings.
"Because I grew up like that, I thought it was normal to say bad things to other people."
Now, a single mother at 32 years old, Cristine hopes to continue being aware of her emotions.
Moreover, she wants to prevent herself from putting her pain and anger on other people.
"I'm working on it, to be self-aware. Yeah, I have this past. I have a bad childhood, but you can always make a difference. […] I wanna cut the curse in spreading bitterness, darkness, hatefulness in the world."
Thank you for sharing your story, Cristine!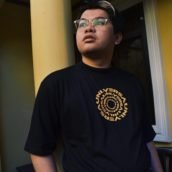 Kobe Adam Joshua Laurena
Kobe Adam Joshua Laurena is a writer who loves to tell stories from the perspectives of different people and everyday life. Apart from the pen, he loves to pick up the lipstick to transform into his frustrated drag persona: Anita Good Lovin'. He aspires to combine his love for writing and drag by creating a novel, short story, or screenplay about local drag queens in the future. He also has an obsession with sitcoms, women's pro-wrestling, and Funko Pops.