Janice de Belen felt honored after winning a Best Actress award at a film festival in New York for her role in the short film Sugat sa Dugo.
The actress took to Instagram last Monday, October 18, to express her gratitude for the International Film Festival Manhattan Autumn 2021.
She wrote,
"Thank you International Film Festival Manhattan Autumn 2021 for this great honor. It is any actor's dream to be garnered such an honor that goes beyond our borders."
Furthermore, Janice gave a special mention to Bambbi Fuentes for picking her to be part of the short film.
The hair and make-up artist debuted as a screenwriter and executive producer for Sugat sa Dugo.
"Thank you [Bambbi Fuentes] for picking me to be a part of this short film. May the intention of this film be successful in reminding people that apart from the coronavirus, AIDS is still a very serious concern around the world."
The film centers around a young man, played by newcomer Khai Flores, who tests positive for HIV/AIDS.
Janice plays his absentee mother in this heavy drama.
Lastly, Janice expressed gratitude to the film's director, Danni Ugali, for the collaboration they did.
"Thank you to our director Danni Ugali for allowing me to collaborate in our scenes. Gratefulness abounds."
Furthermore, Janice's celebrity colleagues like Enchong Dee and Ruffa Gutierrez sent congratulatory messages in the comments section.
Congratulations on this recognition, Ms. Janice de Belen!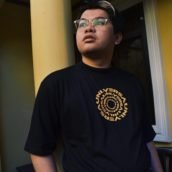 Kobe Adam Joshua Laurena
Kobe Adam Joshua Laurena is a writer who loves to tell stories from the perspectives of different people and everyday life. Apart from the pen, he loves to pick up the lipstick to transform into his frustrated drag persona: Anita Good Lovin'. He aspires to combine his love for writing and drag by creating a novel, short story, or screenplay about local drag queens in the future. He also has an obsession with sitcoms, women's pro-wrestling, and Funko Pops.