Heart Evangelista featured some of her favorite luxury footwear in a YouTube vlog last Wednesday, September 22.
In the vlog, the actress showed some of the shoes she owned, ranging from Louis Vuitton to Christian Louboutin.
Also, she showcased two pairs of pre-loved heels she bought from actress-comedienne Rufa Mae Quinto.
Glamorous heels
"You know who also has a really good collection [that is] a Filipino artist? Rufa Mae Quinto. My god, her collection,"
Heart recalled how Rufa Mae had a sale on Instagram, while continuously praising the latter's shoe collection.
"Sobrang ganda ng collection niya. As in all runway. Chanel boots. But she was playing around with size five, six, and seven, so I could only fit her size seven so I also got shoes from her."
One of the heels she bought from Rufa Mae included a pair of Gucci heels that cost P5,000.
"These are her Gucci shoes that I got too. And I got them for what? P5,000?"
Heart continued, saying Rufa Mae gave her shoes for free, which were previously priced at P3,000.
She recalled her saying,
"Sige na, ganda. P3,000 na lang 'yan. Sige na bigay ko na 'yan!"
How it all started
On the other hand, Heart had more shoes from Yves Saint Laurent, Chanel, Manolo Blahnik, Dolce and Gabanna, and many more.
Moreover, she recalled how her love for shoe collection began, saying it stemmed from her younger days.
"I loved it so much that when I was about four or five, I remember wearing my mom's turquoise, I think it was Escada, strappy shoes. I've always wanted to wear them and she wasn't home that time so I did. I tried them on, tried to walk down the stairs, and then I just fell. I rolled down and I hit a glass table, a beveled glass table, which explains [why] I have a slice right here [on my eyes]. It was seven stitches,"
Check out Heart and her beautiful shoe collection by watching the full vlog below!
Lastly, which pair from Heart's glamorous shoe collection was your favorite? Let us know!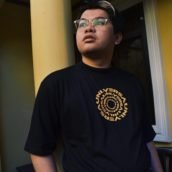 Kobe Adam Joshua Laurena
Kobe Adam Joshua Laurena is a writer who loves to tell stories from the perspectives of different people and everyday life. Apart from the pen, he loves to pick up the lipstick to transform into his frustrated drag persona: Anita Good Lovin'. He aspires to combine his love for writing and drag by creating a novel, short story, or screenplay about local drag queens in the future. He also has an obsession with sitcoms, women's pro-wrestling, and Funko Pops.