Daniel Padilla: RKitchen's Inaugural Celebrity Endorser Bringing Filipino Flavors to the Forefront
In a groundbreaking move, RKitchen proudly introduces its very first celebrity endorser, the multi-talented sensation, Daniel Padilla. This collaboration marks a significant milestone for both the beloved celebrity and the burgeoning culinary brand. It promises to take Filipino flavors to new heights.
Daniel Padilla, celebrated for his versatility and unwavering commitment to championing Filipino culture, perfectly embodies the spirit of the modern Filipino youth. With Daniel Padilla stepping into the role of RKitchen's inaugural celebrity endorser, the doors to this culinary world are flung open wide. Thus, it welcomes a broader and more diverse audience.
RKitchen began as a humble venture with grand ambitions. It has always been dedicated to supporting local communities and creating job opportunities. Furthermore, they spread joy among countless Filipino families through their mouthwatering offerings. Daniel Padilla's association with RKitchen is a testament to the brand's commitment to celebrating its roots and enriching the lives of Filipinos.
With Daniel Padilla as their pioneering celebrity endorser, RKitchen is poised to inspire even more individuals. The gourmet products offered by RKitchen are not mere ingredients. They serve as gateways to the heart and soul of the Philippines. Thus, they deliver a slice of culture and tradition to every home. Daniel Padilla's warmth, charm, and sincere appreciation for these offerings make him the perfect ambassador for RKitchen's culinary journey.
Daniel Padilla & RKitchen bring Filipino flavors to the forefront of the culinary world
This collaboration signifies the beginning of an exciting partnership that will undoubtedly elevate the brand's visibility and introduce a broader audience to the rich flavors of the Philippines. As the first celebrity endorser, Daniel Padilla leads the way, setting the stage for more delightful endeavors in the world of Filipino cuisine, where tradition, taste, and togetherness continue to flourish. This union between Daniel Padilla and RKitchen promises to bring Filipino flavors to the forefront of the culinary world.
Our story, Daniel Padilla's presence will undoubtedly play a pivotal role in carrying RKitchen's message of tradition, taste, and togetherness to new horizons. We look forward to sharing this exciting journey with all of you.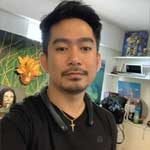 Josh Austria
Aside from being a businessman, Josh Austria has been working in PR and media industry for more more than a decade. From his years of experience as the Marketing and Advertising Head of Village Pipol Magazine, he has built strong relationships with creative people, brands, and organizations.