Taste K-love in every bite as Kenny Rogers Roasters brings the unique flavor of Korea in a new K-licious offering! Passion. Precision. Purpose. Three traits that epitomize the Korean approach to life, to elevate everything that they touch, from music to tv series, to food – traits shared by Kenny Rogers in developing the many ways to enjoy deliciously healthy, juicy, roasted chicken to Filipinos.
A complete K-experience with Kenny Rogers' Kimcheese Roast! 
Kenny Rogers Roasters has taken inspiration from this global phenomenon to give its customers a truly complete Korean flavor experience with the new Kimcheese Roast! It is marinated with Gochujang paste to give a well-balanced sweet, sour and spicy flavor that's distinctly found in Korean cuisine. Each chicken comes with Kenny Rogers' signature Kimcheese sauce that gives a spicy sour kick, cutting no corners on its flavors, richness, and creaminess. 
Adding a delightful contrast is a ring of crunchy and refreshing sesame bean sprouts that perfectly presents the dish. With the new Kimcheese Roast, two new side dishes are available for you to enjoy: Kimchi and K-Glazed Potatoes or gamja jorim!
The new Kimcheese Roast comes in two main meal selections.
If you are looking for a hearty K-infused meal to feed your K-pop soul, Solo Plate B will hit the right spot with you. A quarter Kimcheese Roast with amazing Kimcheese pour-over sauce, two side dishes, rice, and their all-famous homemade muffin for only P 315.00. You can also order for dine-in or to-go the new Kimcheese Roast Group Meal which has a whole Kimcheese chicken, four side dishes, four rice, and homemade muffins, and a 1.5 liter of Pepsi for only P1,105.00. 
Complete your K-experience with Jinro Soju! Flavors available are Fresh, Grapefruit, Green Grape, and Plum for P145 each on selected Kenny Rogers Roasters stores.

 
So, if you live and breathe K-love, starting today, Kenny Rogers Roasters' elevates your K-life with the latest addition to its mouthwatering selection of deliciously, healthy offerings with the new Kimcheese Roast! It is available for a limited time only so grab it while you can! Now available in all branches nationwide. 
Order now via their kennyrogersdelivery.com.ph or call their hotline at 8-555-9000. You may also have it via GrabFood and Food Panda. 
K-fan? Sing and dance with Kimcheese Jingle and show your #KRlovesKR moves. Visit their official Facebook, Instagram, and Tiktok @kennyrogersph. For more information about Kenny Rogers Roasters' Kimcheese Roast, check out this video.
 h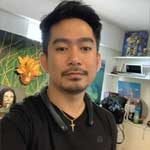 Josh Austria
Aside from being a businessman, Josh Austria has been working in PR and media industry for more more than a decade. From his years of experience as the Marketing and Advertising Head of Village Pipol Magazine, he has built strong relationships with creative people, brands, and organizations.