It's Tokyo 2020! One of the much-awaited events for the whole world. Olympics is not just about winning. It can also serve as a bond between different countries. The Olympics are held every four years. This year, the event started from July 23 until August 8. In addition, this year the Philippines grabbed its first-ever gold. To show support to the athletes, content creators show off their creativity. They created an Olympic-themed food.
Take a look at these Olympic inspired foods
1. Oreolympic Cheesecake
A winner definitely deserves only the best! Iro created a total of five different flavored cheesecakes. For the base, she used oreo cookies and butter. Then, to add the Olympic color, she used blueberry, oreo, strawberry, mango, and kiwi. The creator also dedicates the cheesecakes to Hidilyn Diaz.
2. Olympic Pandesal
For us Filipinos, pandesal became a staple food on our breakfast. Aling Julie, then, adds colors to the usual pandesal. The perfect partner while drinking coffee in the morning. This will undoubtedly brighten your day!
3. Hidilyn Cake
Celebration is not complete without cakes! Aegyo cakes also made a Hidilyn Diaz-inspired design. The cake looks so good and delicious.
4. Olympic Donuts
Moreover, to honor all the Filipino athletes, Chef Gelo Guison made colorful and Olympic logo-inspired donuts. He also used different colored candies to achieve the Olympic logo colors. Definitely, a sweet treat to our athletes!
5.  Olympic Drink
Cheers! Joseph Apostol serves an Olympic-inspired drink. This drink seems to be refreshing and delicious.
This year's Olympics did not only brings out the best in our athletes. It also brings out the creativity of Pinoy! Congratulations to all of our athletes.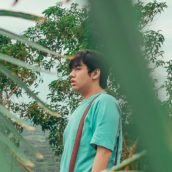 Ivan Royce Pedron
Ivan Royce is a journalism student from Cavite State University. Aside from being a writer, he is also a video content creator, photographer, and graphic designer. He likes to drink…. Coffee, tea, or maybe alcohol. Ask him for recommendations!