There's no doubt that the last four months of the year, called mainly ber-months, are the most festive part of each year. Due to the long Filipino Christmas celebration, these are the most fun and exciting months. In case you are unfamiliar with the ber-months, these are the months starting from September up until December. It is also when the countdown for Christmas begins! To further explain why these months are the most anticipated ones, here are the top ten reasons why Filipinos love them!
Christmas Season: Jesus Christ's Birthday
Since a large population of Filipinos are Christians, the majority of Filipinos in the country celebrate Christmas every year. It is one of the busiest times of the year as those who celebrate it begin preparations as early as September. This is also the season for gift-giving, Christmas decorations, and Christmas trees. Children also adore and enjoy Christmas for various reasons!
Giving and receiving gifts
Filipinos are incredibly generous people. They enjoy giving gifts regardless of the occasion, which is why Filipinos receive numerous gifts during the holiday season. Gift giving and receiving is what everyone is waiting for, most especially the children, because of the thrill and joy in figuring out what presents they will receive once they tear open the colorful gift bags or wrappers. In addition, some families traditionally practice exchanging gifts between members.
Family reunions and parties
The most common value of Filipinos is their close family ties. If they have a large family, this is the perfect chance to have a get-together or reunion and rebuild or reignite relationships. Christmas is full of love and fun because families celebrate it together. During family reunions, they throw parties and prepare games for adults and children. Some even plan out what outfits to wear or dress codes to follow in advance.
Children are given money
Children receive a lot of money during the ber months, which they refer to as "aguinaldo." Aguinaldos are given to children by relatives, ninong (godfather) or ninang (godmother), neighbors, and even strangers. Afterward, these children's money may be used and spent on things they like, such as toys and food. They may also save, budget, and plan where they want to spend their money. 
They do house carolings
Christmas songs can already be heard during the ber months. Filipinos love to sing, the reason why there's a tradition where people conduct house-to-house carolings in the streets. Children sing Christmas carols along with their playmates or friends. In exchange for a song or two, the house owners may give money to those who did the caroling.
Food during ber-months
Some foods are exclusively for ber months only. Filipinos allocate the needed money to prepare food served on the table, which is why there are so many foods during these months, particularly around Christmas. Each family prepares a variety of courses or meals and invites their closest relatives and friends to join them at the table. It is as if they never run out of food during this month, considering the new year comes next after December.
House and Streets Decoration
During this time of the year, streets and houses have colorful decorations. The twinkling of Christmas lights and parols makes the ber-months more exciting because they give off fairytale-like vibes and make everything seem brighter and festive. Furthermore, Christmas trees in different shapes and sizes are displayed everywhere, inside the house or in public and outdoor places.
No classes and work
There are no Classes and work, and everyone can go home to their loved ones or province. There are no classes for approximately two (2) – three (3) because the new year is also approaching, and everyone is anticipating it by the end of December. Students can enjoy their Ber-months and, at the very least, forget about their stressful activities for several weeks.
Cold weather
Ber-months means colder weather. A month where you can finally wear your sweaters after hiding them in your closet for so long. It is also bed weather, making it ideal for enjoying drinking hot beverages or soups.
New clothes
New clothes are on their way! Most Filipinos purchase new clothing as Christmas approaches, with children's clothing taking precedence. Mothers enjoy shopping for their children's clothing because Christmas is primarily for children. Furthermore, shopping for new clothes is something kids, or adults look forward to.
Ber-months are extremely important for everyone, and there are numerous other reasons why Filipinos love them. This season is undoubtedly full of joy, fun, and excitement. Not everyone has the opportunity to celebrate Christmas with various foods on their table, but everyone still enjoys and looks forward to it. It only shows that happiness during holidays depends not on what we have but on how we celebrate it.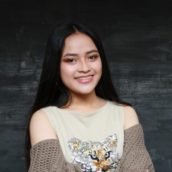 Eslyn Rose Ramos
She is an aspiring individual who loves to share her thoughts and feelings through writing. She aims to be able to make use of her knowledge and skill-sets to their full potential and, at the same time, acquire new learnings throughout her journey of self-growth and discovery.