A the start of the Covid outbreak in the United States, there was a surge in hate crimes against those of Asian descent. But this does not stop the two brilliant and resourceful Filipinos to express their love to our country. With Pinoy Pride, they built the TNT Traysikel and rode it along the Golden Gate Bridge in San Francisco.
The tricycle that went viral after passing through the Golden Gate Bridge
Tricycles remain a popular mode of transportation in the Philippines because the fare is cheaper in comparison with taxi cabs. At some point in our lives, we also depend on tricycles to go to our school, work, and homes. This colorful vehicle symbolizes hard-working, dedicated, and resourceful our fellows.
Because of this very reason, we can't help but feel amazed after seeing a colorful tricycle made its way on one of the most iconic landmarks in the US. Mike Arcega and Paolo Asuncion are the guys behind the idea of TNT Traysikel. Arcega explains the meaning behind the name of their humble tricycle."For most people, it will register as 'explosive' THE 'bomb!' But actually, TNT is a Tagalog acronym for 'tago ng tago' that translates to 'always hiding.' It is a codeword among Filipinx for an undocumented person. TNT Traysikel is an immigrant object that embodies diversity and celebrates cultural differences."
How did Californians perceive the tricycle concept?
Arcega met Paolo Asuncion at an art gallery in South of Market (SoMa) in California. After that, they discovered that their brothers are friends back in Manila. Both of them are fond of motorbikes so they thought that the concept of TNT Traysikel was just a natural thing. Under the auspices of the San Francisco SoMa Pilipinas Cultural Heritage District, the two of them created the social sculpture. Meanwhile, they have a friend who did the decors on the tricycle, including the popular Pinoy phrases like "Hoy" and "Basta Driver, Sweet Lover."
Even though the TNT Traysikel is smaller than sedans, pickups, and SUVs, it has been used to support great causes and movements that may impact big communities. Arcega shared that the vehicle has been all over San Francisco and nearby cities. We try to zip through SoMA every time we're out. We've done deliveries for folks who are vulnerable to COVID-19 through a concerted effort by West Bay Pilipino Center, Bayanihan House, and Bindlestiff Studios. We participated in a Black Lives Matter ride through San Francisco to support the Black Community. Lately, we've been popping up to Filipinx-centered events to get people to sing karaoke."
When people see the TNT Traysikel on the road, generally they smile with admiration Arcega recounts that they receive waves, thumbs-up, and curious looks riding it. He added that the working-class neighborhoods are more responsive compared to the fancy ones.
The role of TNT Traysikel amidst the Asian hate crimes
Moreover, these two Filipino men are dreaming of having a fleet but they also more community participation to achieve it. The purpose of their project is to bring awareness to the Filipinx community in the United States. Arcega explained that there's a lack of Filipinx and Asian representation in American culture. "It's presence in and of itself is a form of protest, as it is unmistakably and loudly Filipino and rails against the 'keep your head down, just blend in' model minority notion."
This Pinoy creative is aware of the rising occurrences of hate crimes or assaults on Asians in the US. He thinks that it is horrible, but it increased their awareness to help one another. Like the Filipino Bayanihan spirit, they look out for each other and their elders. At the end of the interview, Arcega concluded: "TNT Traysikel is a source of goodwill and to be a marker of cultural presence in the United States, creating a sense of belonging for those who understand the symbols and an entry point for all others."
What do you think of this project?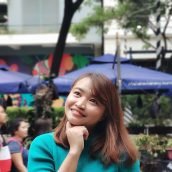 Queenie Lastra
Queenie Lasta got her bachelor's degree in Communications Research from UP Diliman. In her free time, she likes to read thriller novels, psychology books, and mangas. She believes in the importance of grit, hard work, and passion to become a great writer in the future.