Sharp PH Unleashed True Experience with its newly launched Aquos XLED TV
Sharp Philippines has officially launched its new Aquos XLED TV, unleashing true experience with its amazing features. It provides new standard for entertainment experience.
Sharp has leveled up its game again by providing a game changer entertainment for the Philippine market with its launch of the Sharp Aquos XLED TV. From its standard DK1X Series providing unbeatable experience, followed by its gaming TV, DL1X Series bringing real experience, Sharp has once again leveraged its technology producing the all new XLED TV that offers True to Life Experience.
Offering 65" (4T-C65FV1X) and 75" (4T-C75FV1X) model, this new product sets a new standard. It combines the best part of LCD and OLED TVs. This model is set to define a new generation flagship TV with artistic design, as well as excellent innovations. Thus, it brings users a "True to Life" viewing experience reaching new heights. The Aquos XLED 4K TV proves to be the best TV Sharp has produced in the 4K segment over the years. It delivers exceptional picture and audio quality with its unique True Brightness, True Color, and Immersive Sound. Also, this product has won the 2023 IF Design Award.
"At Sharp, we are committed to make effort to deliver high-quality, value-added products, and excellent after-sales service to Filipino families. We believe that every home deserves the best in entertainment. And, our Aquos XLED TV represent this vision.", said Mr. Kazuo Kito, President and General Manager of Sharp Philippines.
True Brightness
The SHARP AQUOS XLED 4K TV features Xtreme mini-LED technology. It presents the highest dimming zone in its class for true brightness. With over 2,000 backlight dimming zones, it offers unrivalled dynamic colour contrast. Thus, this sets it apart from other brands in the market. Moreover, the dramatically increased 88x* backlight LEDs bring 6x* peak brightness compared to conventional displays, creating a dazzling display. 
True Colour
Designed with Deep Chroma Quantum Dot technology, the SHARP AQUOS XLED 4K TV displays the highest colour coverage in the history of the AQUOS TVs. It has over 20% more colour gamut coverage area compared to conventional displays. This allows the 2023 AQUOS XLED 4K TV to deliver realistic object colours and a true-to-life visual experience. 
Immersive Sound
To provide an unparalleled audio experience, the cutting-edge Sharp Aquos XLED boasts Dolby Atmos technology. This innovative feature is enhanced by the inclusion of advanced ARSS+ surround speaker system. It features a total of 11 speakers perfectly positioned to create a 3D sound field and clear. These speakers excel in delivering exceptional sound quality across all frequencies including high, mid, and low ranges. With the Aquos XLED, be prepared to be fully immersed in a truly captivating audio performance.
Google TV
In addition to elevating the visual and audio experience, the SHARP AQUOS XLED 4K TV is seamlessly integrated with Google TV. Through this, users can say goodbye to the hassle of switching between multiple apps. Thus, they can effortlessly explore a vast library of over 400,000* movies, TV episodes, and live TV channels, conveniently organized according to user's preferred genres and interests.  
Latest Dolby Technology
The new model has also the Dolby Vision IQ, which intelligently optimizes your TV for a perfect picture in your room at every moment. Dolby Atmos immerses you in your favorite entertainment with sound that moves all around you with breathtaking realism.
Unleash True Experience Event
Along with Sharp's Aquos XLED Launching Event is its 'Unleash True Experience' event. It was held last August 1 – 6, 2023 at Festival Mall, Alabang. Sharp Tekken Tournament and Cosplay Fest were also held on the exhibit area which showcased multiple talents from the gaming community and to cosplayers all over the South and nearby cities. Furthermore, all the events portrayed Sharp's Japan Technology wherein it shows Sharp's commitment to providing Japan quality products for every Filipino household.
For more updates and information regarding this new product, please visit Sharp Official Website at https://ph.sharp/ and Sharp Facebook Official Page at https://www.facebook.com/SharpPhilippines. You may also visit the leading appliance stores near you to check our introductory price.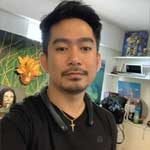 Josh Austria
Aside from being a businessman, Josh Austria has been working in PR and media industry for more more than a decade. From his years of experience as the Marketing and Advertising Head of Village Pipol Magazine, he has built strong relationships with creative people, brands, and organizations.