Park Shin-Hye is known for her roles in dramas The Heirs, Pinocchio, Doctors, Memories of Alhambra, among many others. She is one of those unbeatable K-drama actresses who has it all: beauty, amazing acting skills, and a pure heart. She has an innate allure that makes her captivating on and off-screen.
Getting married by next year with a baby on the way
Now, the SoKor actress just announced that she is going to have a baby with actor Choi Tae-Joon. Tae-Joon last starred in the drama So I Married An Anti-Fan alongside Girls Generation's Sooyoung.
Their respective agencies also shared that Park Shin Hye and Choi Tae-Joon's wedding will be held in a private ceremony attended by close friends and family on January 22.
Park Shin-Hye said she was nervous and worried about making such a "sudden" announcement. However, she felt she owed it to her fans, who had supported her and watched her grow over her 18-year career.
The couple posted sweet letters for their fans and supporters
The 31-year-old actress penned down letters to her fans and shared the good news on her fan cafe. Park Shin-Hye wrote,
"Hello. It's Park Shin-Hye. It's getting colder these days. I'm curious if everyone's doing healthy and well."
She continued,
"A few days ago, I was cleaning my house and found my contract with my first agency 20 years ago. I was in the 6th grade of elementary school and became an actress in my second year of middle school. In the blink of an eye, 18 years have passed. I felt that time really flies. Although I am very cautious to say this as it is still early, I was blessed with a baby. I wanted to tell you before everyone else.
Choi Tae Joon also wrote to his fans to confirm the union and the pregnancy. His letter reads,
"Hello. This is Choi Tae-Joon. Thanks to all of you who have been supporting me for a long time, I'm living every day with gratitude."
He further added,
"With a trembling heart, I am writing this post to share some news that I would like you to know first before anyone else. I've exchanged various emotions with and maintained a meaningful relationship with someone for a long time. She is like a savior to me who taught me without words to smile brightly when I'm happy and to cry out loud when I'm sad. Now, we would like to make our marriage vows and let this love that I'm grateful for bear fruit."
Congratulations and best wishes to this lovely couple. We can hardly wait for your wedding and baby pictures!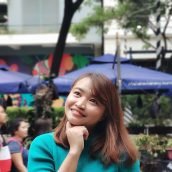 Queenie Lastra
Queenie Lasta got her bachelor's degree in Communications Research from UP Diliman. In her free time, she likes to read thriller novels, psychology books, and mangas. She believes in the importance of grit, hard work, and passion to become a great writer in the future.