Music has become an essential part of our daily lives. We sometimes listen to music dependent on how we are feeling at the moment. I wouldn't make judgments on others based on their musical preferences. I am constantly open to many types of music, such as rock, pop, hip hop, reggae, electronic, and so on.
Nowadays, songs from all over the world can reach listeners because there's a lot of platforms available. It cannot be denied that our local artists are thriving to break into the worldwide scene. It's harder for them to penetrate the international scene since the industry is saturated.
On the local music scene alone, there are a lot of creative and talented artists. They continuously make music because of their passion. One that has caught our attention here at Village Pipol is february bank, a 39-year-old Filipino-American rapper presently residing in the Philippines. The same artist behind the album baduy and SSB. 
Outside the Box: february bank details his creative process
On what made him decide to become an artist
We always have someone or something that inspires us when we create art. For february bank, he believes that his inspiration comes from a combination of things from his childhood, a lot of which he credits his parents for. He said that he needs to give credit to his parents. Growing up, their family would go on road trips and they would play cassette tapes with their favorite songs from OPM to international music. 
"I have to give credit to my parents who had a record player in the house and played a lot of R&B and soul vinyl whilst cooking, cleaning, and also entertaining guests when they had company. We took many road trips as a family growing up and I remember different cassette tapes with their favorite songs from US artists and even OPM Tagalog music. I think this is why I have a strong attachment to older Tagalog music (more than the new) because it reminds me of our family trips when I was still a young boy."
Watching music television shows like MTV, VHS-1, and BET also inspired february bank. According to him, this is where he got his visual inspiration on how to dance, move, dress, and act. He began to understand the whole package that a performer needs in order to captivate an audience. He always loved being in front of the camera. february shared that at a young age, he was already used to performing live in front of big audiences. 
Versatile, Soulful, Lyrical. SEXY. 
february bank described his music as "versatile, soulful, lyrical, and SEXY." He went on to say he can sound very groovy and soothing to the ear due to his deep baritone voice. 
"Since I have a singing background and a deep baritone voice, I am able to sound very groovy and soothing to the ear. Also, I can change my voice in numerous ways. So, most of the time, it sounds like there are multiple people on one song. But, really, it's all me. I also have to shine a light on what I studied in college. I studied Philosophy and choosing this really trained my mind to think 'outside of the box,' which really helped my creativity when it comes to writing."
february bank details his creative process for baduy and SSB
On creating his first album baduy, february said that he broke all the rules of music structure. He said that he wanted to show the youth and the hip-hop fans that he's all about the true essence of rap.
"I really wanted my first album baduy to really showcase my lyrical ability, creative and clever writing, and unique storytelling. So when you listen to baduy, you will realize that most of the songs have no hook or chorus. I basically start rapping from the beginning of the song to the end. Breaking all rules when it comes to music structure. I did this on purpose because I wanted to show the youth and the hip-hop fans that I am all about the true essence of rap. No gimmicks, nothing baduy."
For his second album SSB, he revealed that he created all songs from scratch. SSB stands for "Swak Sa Balde."
"The one unique thing about my process with this album is that I created all songs from scratch on the spot – all organic. I am definitely about capturing the energy and vibe during my studio session and not having any expectations on the final product."
According to him, you need to be able to tap into your soul, true emotions and feelings, in order for you to write with ease whenever someone asks you to. 
Bank wants people to be able to feel him rather than just hear him.
I asked february bank about what he wants people to learn from his songs and he answered that he wants the people to not just hear but also feel him. He also wants to tell a true story through his music.
"I want people to not just hear me, but to also feel me. And, the best way to do that is to strip down all your walls and be completely honest with yourself in the music. Learn to be courageous and tell a true story.  And that way, my fans, and listeners can get to know me and more about me as they listen to the library of songs I have now and in the future."
february bank shares his opinion on the current state of rap music in the Philippines
About the current state of rap music, it's best to ask someone who's part of the said genre. february bank acknowledges that the presence of Hip-Hop and the Hip-Hop culture is dominating the trending scenes. He then cited  Tiktok videos, fashion brands, local events, and visual artwork as samples. However, due to the pandemic, it's hard to make money. 
"What is hurting the scene and any of those who want to make music for a living, is that everything is shut down. There is no real way to make money as a performer these days unless you branch out internationally."
bank also shared that the big challenge with rap is its language-based. He said that it's tricky to get recognized globally if you are using your local language.
"Now, the big-big challenge with rap is it is so language-based. So, if you are a Tagalog rapper, the music you make is limited to the Philippines only. So, that's the tricky part when it comes to being recognized globally."
What's next for february bank?
Bank released two albums last year and for 2021 he also wants to release two albums. He shared that he already finished writing and recording two different albums, still unreleased. Since he comes originally from California, he plans to head back there in August. There, he will start performing and expanding his reach when it comes to my music.
"I am originally from California and I plan to head back to the US in August to start performing and expanding my reach when it comes to my music. Since most of my music is in English – I have some Tagalog words and Filipino references in my songs, I have an opportunity to build and strengthen my fanbase in other countries. Since I am used to living in different parts of the world, this task is easier for me than for some who have never left this country."
If given a chance, he would want to have a collaboration with Gary Valenciano. He also shared that he wants to collaborate with artists with the same frequency as him. He enjoys organic collaborations, particularly when it comes to just the timing of being at the music studio at the same time. february bank then revealed that his next track was created by a group of musicians who happened to be in the studio on that particular day. 
Last July 27, february bank dropped the music video for his song "btgs-lofi."
Doing what you love, fueled with determination and passion, will surely lead you to unimaginable success.
Publisher |  Richie de Quina & Gwynn Crisostomo
Editor-in-Chief |  Angela Baltan
PR & Advertising Manager |  Josh Austria
Digital Manager |  Allen Esteban
Words by Ivan Royce Pedron
Photographer | Mike Gella (@mikehellyah)
Make-up Artist | Lounell Ventura (@lounell_ventura)
Styling | CRUZ MNL (@cruz.mnl)
Special thanks to Kyle Cruz, Vani Altomonte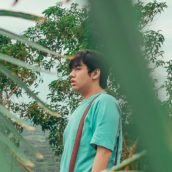 Ivan Royce Pedron
Ivan Royce is a journalism student from Cavite State University. Aside from being a writer, he is also a video content creator, photographer, and graphic designer. He likes to drink…. Coffee, tea, or maybe alcohol. Ask him for recommendations!