Most of you probably know that it's important to include fruits and vegetables in our diet. Aside from the fiber it gives, these glow foods contain the vitamins and nutrients necessary for good health. But what if your favorite fruits are not in season or you cannot afford to shop every week for your supplies? This might be the perfect time to favor the frozen fruits from HollyBeary PH!
Developing a sense of connection with customers
Holistic practitioner/mother Rene Rose Rodrigo named their online venture after their beloved daughter Holly. This is because Holly's all-time favorite snacks are berries. It was really her husband's idea to sell frozen fruit during the pandemic. This is Rene's first time to venture into the food industry but she discovered a lot of learnings.
She explained, "I've noticed that the customers are really enticed by being able to relate to the owners, family, and vision behind the brand. When we first started, I added a highlight to our Instagram account titled 'Know Us!' and that's where I share tidbits about our life as a family and how we use the berries for our children. Those are the posts that get the most responses and interaction, which eventually translate to sales. A lot of our customers tell us it makes it easier for them to trust us, and I love that we can connect with them on that level."
Starting a business during the pandemic is not a piece of cake. Rene detailed all the things they have to do to make sure it's running according to plan. From building the trust between suppliers and customers up to sterilizing the orders for delivery. She refused to repack them into half kilos even though it was in demand. She did not want to compromise the quality and freshness of the frozen fruits just for profits.
Most of their berries come from beautiful Halal certified farms in Yantai China so Rene had to assure their customers that all packages did undergo proper sterilization before delivery. She understood their fear so she handled the issue with grace and honesty.
"Transparency is my biggest business motto. Of the 8 businesses I currently operate I always make sure that the team is knowledgeable and confident in the quality of our product and how the product is made."
The wonders of  frozen fruits for our health and well-being
HollyBeary PH sells a wide variety of frozen fruits and veggies that are not only practical but also versatile. The fruits and berries can serve as smoothies, toppings for pastries, overnight oats, or smoothie bowls. You can also mix the broccoli and spinach on your shakes and you can also use them for soup, omelets, or vegetable stir-fry.
Since a lot of Pinoys are not keen on the sour taste, the shop's bestsellers are strawberries and blueberries. However, many are surprised to find their blackberries and raspberries to be also sweet. Meanwhile, they just started selling mixed berries packs and it became a hit so fast.
Rene Rodrigo noted that all fruits are beneficial for your immune system since they have flavonoids, antioxidants, vitamins, minerals, and fiber. All of this helps to support cellular health and they are very low in calories which is good for losing weight. For gut health, she suggested blueberries and peaches while avocado is the top choice to promote hormonal health among women. However, she also pointed out that we can consume fruits based on our personal preferences.
Aside from delivering sweet and fresh fruits, many customers loved the customer service from HollyBeary PH. They also leave a smile on their customer's faces and making sure that they're happy with their purchase. Soon, the shop is moving into a commissary and they will be offering Christmas bundles for this coming holiday season. They also have a PHP 150 discount for every order worth PHP 2K while giving loyalty cards for each order starting at PHP 1,000!
If you are interested to order from the shop, you can send a message on the Instagram or Facebook account of HollyBeary PH. You can also call or text them at 09278723449. They currently accept payments via GCash, bank transfers, PayPal, and even COD.
So go ahead, reap the goodness and sweetness of the frozen fruits from HollyBeary PH. We're sure that it will be a part of your grocery staple!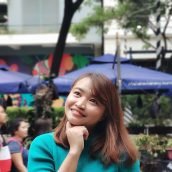 Queenie Lastra
Queenie Lasta got her bachelor's degree in Communications Research from UP Diliman. In her free time, she likes to read thriller novels, psychology books, and mangas. She believes in the importance of grit, hard work, and passion to become a great writer in the future.