No. 1 for three consecutive quarters: realme maintains lead in PH smartphone rankings for Q3 2021
2021 has truly been an exceptional year for realme Philippines.
They continue to solidify their position as an industry disruptor with an impressive roster of accomplishments.
After being hailed the country's no. 1 smartphone brand for Q1 and Q2 2021, the three-year-old brand has been recently named as the top smartphone vendor for Q3 2021 by top international research firms Canalys and IDC.  
According to Canalys, they ranked first for Q3 2021, accounting for 26% of the local market share, besting four other smartphone brands.  
The brand's industry leadership for the quarter has been validated by IDC as the research firm also reported a number 1 ranking for realme in a separate report.  
With this milestone, the fast-growing tech and lifestyle brand has now managed to consistently maintain its lead for three consecutive quarters—an unprecedented feat the brand attained in just three years. The brand first held this position in Q3 of 2020, just less than two years since its entry to the Philippine market in November 2018. 
Austine Huang, the brand's VP for Marketing, says,
"No words can express how grateful we are to the Filipino squad for their unwavering support and love for the brand since day one. It is truly an honor to be recognized as the top smartphone brand in the country and we could not have done this without the trust and hard work of our incredible fans, employees, partners, and everyone that makes up the realme community,"
#realmeWithYou: 1 with You this holiday season
To celebrate this milestone in time for the holidays, realme is set to roll out an exciting line-up of initiatives to thank the Filipino Squad for their amazing support.
The country's no. 1 smartphone brand recently kicked off its #realmeWithYou holiday campaign, jam-packed with events and promos to cap off the year.  
Huang shares,
"With all these milestones, it is but proper for us to celebrate with our beloved Squad to give back and thank them for their support. Through our #realmeWithYou campaign, we hope to give everyone a delightful holiday experience and make them feel that realme is one with them in the spirit of Christmas,"
As part of the campaign, they launched its #realmeWithYou Raffle Promo where more than 16,000 realme TechLife prizes, along with an all-new Mitsubishi Mirage G4, will be up for grabs!
Customers who purchase a realme device with a minimum worth of P5,000 from November 15 to January 2, 2022 at any realme flagship store, authorized partner dealer, and from realme's Official Lazada and Shopee stores will earn an e-raffle ticket.
To register and see the complete mechanics, visit https://bit.ly/realmeWithYouRegister.  
Another initiative the realme Squad can look forward to is the realme Mobile Legends Cup: Streamers Royale, RMC's first off-season all-star tournament where realme invited top streamers to battle it out for charity.
A prize pool of P200,000 will be donated to the winning team's charity of choice. Registration is until November 20, and the play-offs will start later this month. To join, visit https://bit.ly/RMCStreamersRoyaleRegistration. 
In addition, realme sets to launch the #realmeWithYou Christmas Songwriting Contest where aspiring musicians and composers can get the chance to win P50,000 worth of realme devices and a chance to sing realme's official Christmas track.
Interested participants are to create a duet video on TikTok and compose their own title lyrics with the theme "realme with you" and bridging families despite the distance.
Deadline of entries is November 25. Visit realme's official Tiktok account at https://bit.ly/TikTokrealmeph for the complete set of mechanics.  
To cap off the holiday festivities, realme is also hosting big holiday sales where the Squad can avail of massive discounts and deals to complete their Christmas shopping!
These include the realme Brand Day Sale on Shopee on November 26, and the realme 12.12 Christmas Sale on both Shopee and Lazada.
More details will be shared soon so stay tuned! 
With all these initiatives and more, the holidays are about to get even more special with realme! For more info and updates from the country's no. 1 smartphone brand, be sure to follow realme on Facebook, @realme_PH on Twitter, @realmephilippines on Instagram, and visit the official realme website. #realmePH #realmeWithYou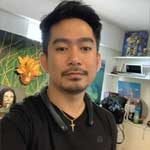 Josh Austria
Aside from being a businessman, Josh Austria has been working in PR and media industry for more more than a decade. From his years of experience as the Marketing and Advertising Head of Village Pipol Magazine, he has built strong relationships with creative people, brands, and organizations.