Lockdown Movie
Emerging star Paolo Gumabao earned positive reviews for his first starring role in the daring film Lockdown.
 Joel Lamangan applauds Paolo Gumabao's acting
Award-winning director Joel Lamangan helmed Lockdown. In a recent interview with ABS-CBN News, he applauded the new actor's performance. This comes as a surprise to many as Gumabao was only recently introduced as one of the next generation of Star Magic artists. 
Lamangan told ABS-CBN News, 
"Yes an actor is born here. Mahusay at intelihenteng aktor and he carried the film." 
Furthermore, Max Eigenmann who plays the fiancée of Gumabao's character said,
"I love his passion and hunger. His energy is contagious." 
Liza Dino, head of the Film Development Council of the Philippines (FDCP), also said,
"Ang galing ni Paolo, sobra! Very well acted. It's raw, organic, the way he played it."
Lockdown revolves around an overseas Filipino worker forced to turn to cybersex work to make ends meet.
According to its official synopsis, Lockdown revolves around a poignant story about the struggle of a young man to survive the global pandemic and the naked truth about the life he chose to live.
Gumabao plays the character of Danny Asuncion, an unemployed OFW forced to become a cybersex worker due to poverty and the severe illness of his father. Moreover, Troy Espiritu, renowned for his globally acclaimed films Ma Rosa and Alpha: The Right To Kill, wrote Lockdown. 
The film starred Paolo Gumabao, Max Eigenmann, Jim Pebanco, Ruby Ruiz, and Angellie Nicholle Sanoy. According to Lamangan, the core message of the film also refers to a person who will do everything to make money for the sake of their parents. Even if the compensation is his dignity as a person or his life.
Lockdown is by far Gumabao's biggest break in the movie scene. He, then,  shared that he was moved to tears upon reading the script. Aside from that, he also feels like Lockdown is a golden opportunity.
Who is Paolo Gumabao?
The 23-year-old actor Paolo is the son of Dennis Roldan and the half-brother of Marco Gumabao and Michelle Gumabao.
One of his latest works is the horror anthology Horrorscope. His previous works include the 2019 film Batang POZ, about the story of Filipino teenagers living with human immunodeficiency virus (HIV).
Paolo also appeared in the ABS-CBN drama Oh My G! starring Janella Salvador, and the 2015 Metro Manila Film Festival film Haunted Mansion. Lockdown the movie drops globally on July 23 via ktx.ph, upstream.ph, and RAD.
Watch the Lockdown trailer here: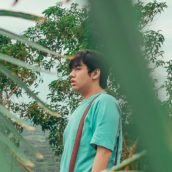 Ivan Royce Pedron
Ivan Royce is a journalism student from Cavite State University. Aside from being a writer, he is also a video content creator, photographer, and graphic designer. He likes to drink…. Coffee, tea, or maybe alcohol. Ask him for recommendations!