Photo credits: Top Gear Philippines
After getting the approval from IATF, the popular ride-hailing app Angkas is coming back soon to serve the commuters. It is good news for many of us but what changes can we expect here?
Safe transportation for Angkas riders
Angkas may return soon following the recommendation from the Inter-agency Task Force on the Management of Emerging Infectious Diseases (IATF-EID).
The IATF's nod came after Metro Manila mayors' requested the government to continue the pilot study on motorcycle taxis. After that, the National Task Force (NTF) against COVID-19 chief implementer Secretary Carlito Galvez Jr. gave his support to Angkas. He said that bringing them back on the road will help in increasing the capacity of public transportation.
But before you get excited about their comeback, you may need to purchase your own helmet. Angkas encouraged its riders to invest in protective gear since they would no longer provide it during trips.
There are types of helmet that Angkas accepts
The ride-hailing company told the riders they could buy full-face, quarter-face, modular, and dual-sport helmets. Depending on the type and brand, the price may range from PHP 760 to PHP 2,636 each in its partner stores. Aside from that, they may opt to order via Angkas Pabili with a discount.
However, the company warned the consumers not to purchase motocross, half-face, and bike helmets that have no visors. They should not also choose those without any regulatory stickers and locks.
The government added this measure to prevent COVID-19 contraction which made it ban pillion riders except those transporting health workers. This move had a severe impact on a pool of 30,000 bikers. They resorted to delivery services Angkas Pabili and Angkas Padala.
An owner of a helmet shop in Pasig City said that he did not increase the prices of his items, they are still available at PHP 4K to PHP 9K. He added during an interview, "We did not implement any price adjustment. But we did notice that there was an increase in demand compared with the time when we were still under [enhanced community quarantine] since more people were not allowed to go out then."
IATF decision allegedly allows the resumption of the motorcycle taxi pilot program, saying transportation was the "core" of the reopening of the economy. Angkas chief transport advocate, George Royeca,
"It has always been the advocacy of Angkas to provide inclusive transportation safely to the public, especially at this time of pandemic when 60 percent of the workforce need to go back to work and only 40 percent of public transport is available."
Angkas will require the use of plastic shields that would serve as barriers.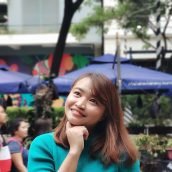 Hailey Alcantara
Queenie Lasta got her bachelor's degree in Communications Research from UP Diliman. In her free time, she likes to read thriller novels, psychology books, and mangas. She believes in the importance of grit, hard work, and passion to become a great writer in the future.