Iloilo province is a part of Panay, a heart-shaped island found right smack in the middle of the Philippines. This central location truly proves handy especially for travelers who are looking to explore other parts of the country, with its green and beautiful places. And it will become more enchanting with greener tunnels soon!
A city that's friendly to bikers and the Mother Earth
Bikes have become a major mode of transportation across the country as the quarantine meant the suspension of the mass transport systems. Last month, Iloilo City became a pioneer in improving its bike lane system. They put up lines to allocate a portion of the road to cyclists. There's no longer surprise that this city is hailed as the Philippines' Wakanda!
On a Facebook post, Iloilo City mayor Jerry Treñas recently announced that there's an architectural plan for a bikeway project "Green Tunnel". This is another sustainable development plan that aims to address climate change and at the same time beautify the city.
According to Treñas, they are planning to build the first "Green Tunnel" over the bike lane along Diversion Road. The tunnel will be around 4.5 to 6 meters long and covered in vines and other plants to complete the one-of-a-kind city garden. Also, they are going to add thirty-two waiting sheds filled with plants along the loading bays of the location. He wrote on the post,
"I tasked our City Engineer's Office to develop a plan for sustainable development in different areas of the city. In the absence of trees, [these Green Tunnels] will help soften out concrete roads as a climate change mitigation or adaptation measure."
So far, the City Engineer's Office already proposed three designs. Treñas explained that they are still finalizing the plan to determine which is applicable for Iloilo. The plan should meet the needs of the citizen in terms of social, environmental, and economic challenges.
We really hope that other city governments will see how efficient and beneficial this green tunnel is and also imitate this on their own.
Do you agree with us?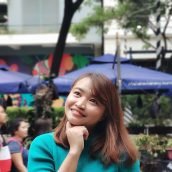 Queenie Lastra
Queenie Lasta got her bachelor's degree in Communications Research from UP Diliman. In her free time, she likes to read thriller novels, psychology books, and mangas. She believes in the importance of grit, hard work, and passion to become a great writer in the future.