Ever since he was little, Kim de Leon described himself as curious, silent, shy, and adventurous.
However, being passionate is the top trait he would describe himself, back then.
Pursuing his passion
"Young Kim was many things – curious but silent, shy yet adventurous, but mostly he puts passion in everything he wants and needs to do. He goes for it, he's an achiever,"
This led him to have big dreams, specifically of being in front of the camera at such a young age.
Back then, Kim saw himself as an entertainer, putting smiles on people's faces by doing different roles.
"It's like acting has really been a part of who I am. Ever since I was a kid, I have always dreamt of myself doing different roles and giving entertainment to people.
His passion for being an entertainer moved him to pursue a career on-cam when he got older.
Kim's first entry into the showbiz world was through various television commercials and advertisements.
Despite describing the experience as tough, as he was a working student at that time, the actor-singer loved every moment of it.
"I was a working student, paying for my own needs, living far from home, but still blessed to do commercials. I still remember the excitement in every audition and the suspense when announcing whether I'm in or not. [I] even made new friends and family along the way. Fun times,"
Competing and learning from the best
Then, he found another blessing in 2019 through an audition for the GMA reality talent competition StarStruck.
Kim believed the show was a perfect platform to showcase his impressive talents.
"I thought that StarStruck would be the best platform to showcase my talents. Also, having used to get rejected in so many casting calls urged me to audition. I was like 'Bahala na.' then boom! The rest is history,"
He had to go through different acting challenges in each episode but stressed how every moment of the show was special.
Kim believes such, especially since he got to work with a lot of talented people from his fellow newbie contestants to veterans in the field.
"Every moment was special. I didn't expect to be given a chance to compete against talented people and perform in front of respected artists. I even had my own group of supporters! It was a crazy good experience, and it may be a competition but win or lose, they're my comrades,"
Kim bagged the title of Ultimate Survivor, alongside Shayne Sava, after three months of putting effort into different challenges.
It felt surreal for him, bringing back memories of a young Kim always wanting the spotlight for his talents.
"Sometimes, having your dreams within your reach feels overwhelming. At first, there was a lot of pressure because I wanted to prove something. But as time passes by, I gradually turned that 'pressure' into 'drive; that, I believe, would bring more life to my career. It still feels like a dream, but I must say I love living the dream,"
A new world to learn
After StarStruck, Kim officially signed with the GMA Artist Center as one of its newest members.
For him, it felt like entering a brand new world and taking on new duties.
"I'm finally part of a whole new world. Another space to grow. A place that I think would shape this phase of my life. It felt like an exciting responsibility,"
Kim bagged roles in different Kapuso shows like Magpakailanman, Pepito Manaloto, and My Fantastic Pag-Ibig.
In these shows, he got to work alongside veteran actors which became a huge honor for him.
These actors would teach him what it is like to grow into the acting industry, with their vast experience and knowledge.
"Of course, aside from the kilig feeling of getting seen in one frame with more experienced artists, what I look forward to are the learnings I could get from them—may it be in life or work. I know there's a lot I'd still go through in this industry and I'm always open to learning more so I could always be better,"
One thing Kim learned from his now-fellow actors was to stay humble in every aspect of life.
"Wherever you go, whoever you've become, high or low, it's amazing how kindness can have so much positive impact on people,"
A road worthy to take
However, an acting career will not be complete without struggles. At a time, the pressure got into Kim, prompting him to rethink his showbiz journey.
"As a newbie who got to experience working with the other stars in the business, I sometimes try so hard to prove something that I end up forgetting why I started. Also because of pressure, I tend to doubt myself. It's like I was drowning from all my 'what ifs,' overthinking things that I can't control, and that scares me at times,"
Yet, he overcame this struggle with a support system by his side.
"I am still blessed that I have the best support system, my family, friends, supporters, whose presence never failed to remind me that I can because I will. And again, if your dream doesn't scare you, it's not big enough. I dream big,"
When asked if he can give any advice to people who want to pursue showbiz, Kim kept it simple by telling them to go for it.
"It's not going to be an easy drive, there will be rocky roads on the way, but it's all gonna be worth it when you finally get where your hearts want you to be,"
And what is next for Kim De Leon? A single is in the works!
"I'm excited to share my very first single. I've been singing ever since I was an out-of-tune kid. I still have a lot of techniques to learn and I never really thought of having my song. So yeah, another dream-come-true moment in my life! I hope you guys would love and listen to it."
We cannot wait to hear your new single, Kim. Good luck and keep on keeping on in showbiz!
Publisher | Richie de Quina & Gwynn Crisostomo
Editor-in-Chief | John Luke Chica
Junior Editor | Kobe Adam Joshua Laurena
PR & Advertising Manager | Josh Austria
Digital Manager | Allen Esteban
Words by Kobe Adam Joshua Laurena
Photographer | John Albert Furing
Creative Director | Miguel Quilang
Grooming | Paige Seneres
Hair | Arthur Tolentino
Stylist | Jowie Namayan
Fashion Designer Blue Suits | Jhay Layson
Special Thanks to GMA Artist Center, Chester Jan Singian, Robert Dela Cruz Mendoza, and Tea Ni Juan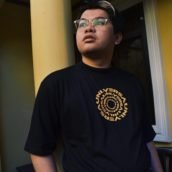 Kobe Adam Joshua Laurena
Kobe Adam Joshua Laurena is a writer who loves to tell stories from the perspectives of different people and everyday life. Apart from the pen, he loves to pick up the lipstick to transform into his frustrated drag persona: Anita Good Lovin'. He aspires to combine his love for writing and drag by creating a novel, short story, or screenplay about local drag queens in the future. He also has an obsession with sitcoms, women's pro-wrestling, and Funko Pops.