BigRoy's Boodle Fight wows its customers with their Boodle Bilao and its variety of meat and seafood.
A platter replete with liempo, fried pusit, bangus, longganisa, salted egg, tomatoes, and rice will surely get customers' stomachs rumbling.
With so many choices in one woven tray, one order of Boodle Bilao is surely worth it for every consumer.
A clamor for Cebuano dishes
Back in 2013, owner Roy Aguilo, Jr. yearned to start his business while doing his job as a bellman in a resort hotel.
He waited two more years before an opportunity sprouted to start his own business, recalling,
"I decided to move to another department to increase my salary. With my little savings, I got a chance to put up my small restaurant business and that is BigRoy's Boodle Fight,"
By August 2018, BigRoy's Boodle Fight came into fruition in Cavite, with two branches immediately opening in Laguna.
Then, fourth and fifth branches opened up in Parañaque and Quezon City, prompting Roy to open his business for franchising.
"Due to the anticipated demand for our food products and services, the restaurant has paved the way for its recognition. In January 2021, I decided to open my franchising business I know it's a bit difficult due to the pandemic. Fortunately, in March 2021 I got 2 franchisees,"
His business, consisting of Cebuano dishes, stems from Roy's teenage years when his parents moved to Manila.
"I was longing for Cebuano dishes here in Manila and searched for restaurants that offer authentic Cebuano dishes, but I didn't find one. I asked myself, 'Why can't I put up my own authentic restaurant that caters to my favorite Cebuano food?'"
Days from Roy's youth gave birth to this Cebuano dish business, giving the city folk a taste of his hometown.
Meeting different people
However, it is not a business without some struggles. For Roy, the budget is his prime concern.
"I struggle a lot with that every now and then. I started my own business with a very tight budget. That's actually from my savings from my previous work as a Bellman in a hotel and casino,"
Furthermore, a pandemic happened, forcing him to close his business temporarily.
Yet, when the government allowed him to re-open, customers started flocking and approving of his dishes.
"I was so stressed because I needed to close my restaurant for a long time. However, when our government allowed us to re-open, BigRoy's was recognized. People like my products. I currently practice different marketing strategies, especially on social media,"
With tons of people giving him rave reviews, Roy met a lot of customers who have, since, become his friends.
Celebrities have also noticed Roy's delectable dishes, including Sunshine Cruz, Kiray Celis, and Beks Battalion (Lassy, MC Muah, and Chad Kinis).
"I get to meet a lot of people doing this kind of business. Some of them even became friends of mine. Happiness is unexplainable if I get good feedback from my customers. They love my recipe and I am so thankful to them,"
The verdict
Village Pipol got the opportunity to taste the Boodle Bilao from BigRoy's Boodle Fight.
Upon arrival from delivery, it looks safely sealed with plastic rope, aluminum foil, and banana leaves.
It tightly seals the food, putting less worry for the consumers if it might fall during conveyance.
The Boodle Bilao also came with BigRoy's other specialty, the Bisdak Vinegar, and bagoong, which all adds that extra flavor to the food.
Upon opening, my jaws dropped upon seeing the variety of food mixed into the one tray.
With the wide array of food all caked into one, I found it hard to choose which one to try first.
Eventually, I started with the meat. The small pieces of liempo were perfectly grilled while the longganisa was deliciously sweet.
With the Bisdak Vinegar poured into a bowl, I dipped the liempo in it and was pleasantly surprised with the salty-spicy combination it brought.
On the other hand, the two sticks of fried pusit and one piece of bangus tasted heavenly, with the former being the star of the platter with its big size.
Of course, the meat and seafood would not be complete with rice. All the food goes perfectly well with it!
The salted egg and tomatoes, on the other hand, were quite all right. They both add unique flavors to the dish.
However, being not a big fan of the two on its own, I'll take it or leave it.
Overall, the Boodle Bilao platter of BigRoy's Boodle Fight is worth it, especially when shared with other people.
I shared the platter with my family, and they all gave two thumbs up for it.
The Boodle Bilao is perfect if you want to step it up when it comes to eating with family and friends.
Sharing this wide variety of food with others will surely give you a unique dining experience.
More specialties
Apart from the Boodle Bilao, BigRoy suggests trying their Bisdak Vinegar and Bisdak Alamang.
"Besides the Boodle Bilao, I want my customers to try my very own Bisdak Vinegar and Bisdak Alamang that go well with the different dishes on our menu. They have to try the boodle set up in our branches. We can even do home service of boodle set-ups. It's a must-try!"
For inquiries on BigRoy's Boodle Fight, you may visit their official Facebook page, call 09162940915, or email them at bigroysgrill@gmail.com.
Photos of Roy and Celebrities: Courtesy of Wilfred Villaruel
Photos of Boodle Bilao: Kobe Adam Joshua Laurena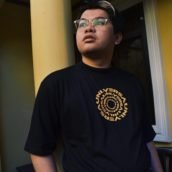 Kobe Adam Joshua Laurena
Kobe Adam Joshua Laurena is a writer who loves to tell stories from the perspectives of different people and everyday life. Apart from the pen, he loves to pick up the lipstick to transform into his frustrated drag persona: Anita Good Lovin'. He aspires to combine his love for writing and drag by creating a novel, short story, or screenplay about local drag queens in the future. He also has an obsession with sitcoms, women's pro-wrestling, and Funko Pops.