Even amidst controversy, the beauty and intelligence of Filipinas will still shine through in international beauty pageants. Just earlier today, Rowena "Rowee" Lucero bagged 4th runner-up at the Miss Globe 2020 held in Albania!
A Filipina beauty queen with a heart for her fellow Pinoys
About Rowena, this beauty earned her bachelor's degree in Secondary Education, major in Social Studies at the Bulacan State University and she is now a licensed teacher. Currently, she is working as a partner and a Director for Operations of a Language Center here in Manila that offers Asian and European languages.
As for her advocacy, Rowena wishes to strengthen the value of education in her country. She has been supporting a free after-school program for public school kids in the country since 2016.
Deliart Association, the group behind Miss Globe, invited Rowee to participate in the competition after the pageant was canceled indefinitely due to the pandemic. Rowee was a Binibining Pilipinas 2019 candidate.
The Miss Globe website reported that Kosovo's Lorinda Kolgeci won the title of Miss Globe 2020. Aside from Rowena Lucero, the titlist includes Siberia's Matveeva Evgenia, 1st runner-up; Ghana's Naomi Chioma Anene, 2nd runner-up, and Brazil's Thawany Aparecida De Faria, 3rd runner-up.
In addition to the 4th runner up title, Rowee also won the People's Choice award.
Working together as a nation to survive
A few hours before the pageant, Rowee made a post on Instagram, to show her sincere concern for her countrymen after the onslaught of typhoon Ulysses. The caption said,
"Tonight my country, the Philippines, suffers a huge destruction of property and loss of lives due to a strong typhoon. I know this is a very difficult situation for us after dealing with two consecutive storms… But here we are! Standing and fighting,"
She added that she dedicated her fight to all Filipinos so that they keep the faith to survive the tragedy. She also said, "We can survive this trial as we all work together especially with the help and prayers of the community of nation across the Globe."
Even though she did not win the Miss Globe crown, Rowena Lucero is a true definition of a queen!
Do you guys agree?
Photographer | Jai Murcillo
Stylist | Jowie Namayan
Designer Clothes |  Simoun Andres
Hair and Make Up| Ivan Vivo Punzalan
Shot in VP Studio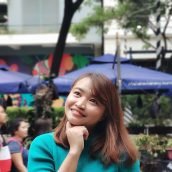 Queenie Lastra
Queenie Lasta got her bachelor's degree in Communications Research from UP Diliman. In her free time, she likes to read thriller novels, psychology books, and mangas. She believes in the importance of grit, hard work, and passion to become a great writer in the future.