Get your lists of brave and bold questions ready! The PUP BroadCircle prepares a long table with reputable filmmakers for you. They join the annual celebration of Pride Month with its event titled, "PRIDE OF PRIDE: Celebrating Queer on the Screen."
Through the lens of films and series, the event aims to raise awareness about the struggles of the LGBTQIA+ community. Furthermore, it will discuss the portrayal of the marginalized community and encourage discourse. This will tackle the realities that the community is experiencing in their daily lives.
The event has been officially launched on June 8, 2022, and consists of two main activities. These include the LGBTQIA+ Character Study Forum and the Call Her Ganda Exclusive Film Screening.
The event kicked off with The LGBTQIA+ Character Study Forum last June 18, 2022, from 5:00 PM to 7:00 PM. Certainly, it champions the diversity and authenticity of the LGBTQIA+ representation in the Philippine media. This is to trace the stereotypical patterns of non-binary roles presented in local films and series.
Also, the forum consisted of renowned LGBTQIA+ filmmakers and enthusiasts. Rod Marmol, writer of the BL series "Quaranthings," the drama series "I Got You", and the co-writer of PPP film "Pinay Beauty," three MMFF films "Magikland," "Mang Kepweng," "Super Parental Guardians," among others, and Dolly Dulu, director and writer of "The Boy Foretold by the Stars" (2020), "Wild Little Love" (2019) and "Love Beneath the Stars," who shared their experiences and insights on shaping the LGBTQIA+ characters in Filipino films and series.
See Also
Meanwhile, it was followed by a free and exclusive film screening of PJ Raval's Call Her Ganda, a documentary film on Jennifer Laude's case. The registrants were given 36 hours to stream the film. On June 27, 2022, 4:00 PM to 6:00 PM it was wrapped up by a short forum. It was with PJ Raval and Laude's family's attorney, Atty. Virginia Suarez.
Continue to join the PUP BroadCircle as they aim to maximize their platform to fight against the never-ending scourge of hostility towards the LGBTQIA+ community—on and off the screen. For more information, visit and follow the official Facebook page of the PUP BroadCircle, the premier academic organization of PUP College of Communication's Department of Broadcast Communication.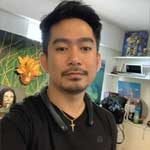 Josh Austria
Aside from being a businessman, Josh Austria has been working in PR and media industry for more more than a decade. From his years of experience as the Marketing and Advertising Head of Village Pipol Magazine, he has built strong relationships with creative people, brands, and organizations.