We truly believe that many Filipinas portray grace, wisdom, passion, and other characteristics that are more essential than physical beauty. In prestigious beauty pageants like Miss Universe Philippines, a gorgeous face and voluptuous body measurements are already expected from its contestants. However, one must have a lot more than that to bring home the crown. Does Noreen Victoria Mangawit have what it takes to reign as a queen? Let's get to know her shortly!
Forging her character through independence and diligence
The stunning lass is a proud member of the Kalinga tribe and she's articulate in speaking the language of this ethnolinguistic group. At the young age of 16, she learned how to live all by herself. She had to move to another city to pursue her education. This sacrifice is worth it since she was able to accomplish many things. Noreen received honors while having a part-time job as a museum volunteer for Museo Kordilyera. And more importantly, she was able to graduate with a bachelor's degree in Social Sciences majoring in Economics and a minor in Political Science from the University of the Philippines Baguio two years ago.
Currently, she is happily serving her fellow Filipino citizens as a civil servant. During her free time, Noreen enjoys traveling with her friends and going on adventures. This girl loves outdoor activities like hiking, island hopping, and spelunking. She is also busy with her preparations for the Miss Universe-Philippines.
Her challenges towards the crown
She continuously learns by taking notes of every training while making herself aware of current events happening here in our country. This is hard for her since she hasn't joined beauty pageants that much before. This is her first national pageant so she needs to absorb everything she can from her training and practice. But Noreen has a strong drive to win the crown, not just for herself but also for her advocacy.
More than the prestige and fame, this lady wants to represent her culture and the young generation. She wants to prove that age is not a factor to initiate change in our society. The practice of leading and serving does not discriminate.
Moreover, Noreen shares her perspective on advocacy by saying, "Advocacy is more than just talking about a certain cause that you believe in. It entails devoting yourself, your time and effort in studying how to impact a sector(s) of society. The Philippines is a diverse country in terms of the various cultures we practice. Thus, we need to reiterate the importance of cultural relativism. Indigenous peoples have always had their voices and I would like to use my influence and this platform to help amplify their voices. It is time to start a conversation on the most important yet overlooked part of our society – its people."
Beauty queens can offer hope and solutions
Noreen Mangawit also believes that beauty pageants remain important even during these trying times. "Pageants have long overcome the view of being only superficial. We are here because we want to be able to give hope, and at the same time lead in offering solutions to the problems we are facing." Aside from being a beauty queen, she said that she wants her community that it is our responsibility to look after one another. "We could only thrive in doing so by being educated on the things that affect us as an individual and as a community. I want to be able to contribute to this process."
These are the things that make Noreen an amazing contender for the MUP. She had her share of personal struggles in the past since she always felt the pressure to meet society's perfection. But now, she is ready to stand up and break the barriers. She added, "I am phenomenal because I am a woman and not 'just' a woman."
What do you guys think of Noreen Mangawit? Do you think she has what it takes to win the crown?
Creative Director: Giovanni Eevan Solomon 
Styling: Giovanni Eevan Solomon 
Earrings: Farah Abu, Klad Philippines, Karutora PH 
Designers: Bea Cruz (Orange), Candice Arboleda (Blue), James O'Bryant (Red Pants), Eman Rinoza (Pink)
Makeup: Love Balbastro 
Photographer: Albert Furing 
Shoot Location: Studio 7 Manila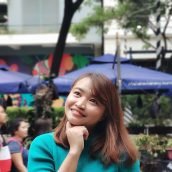 Queenie Lastra
Queenie Lasta got her bachelor's degree in Communications Research from UP Diliman. In her free time, she likes to read thriller novels, psychology books, and mangas. She believes in the importance of grit, hard work, and passion to become a great writer in the future.