Grab Celebrates Top Picks for Food Deliveries, unveils Fan Faves 2023 Winners
Grab Celebrates Top Picks for Food Deliveries, unveils Fan Faves 2023 Winners
Grab culminates Fan Faves 2023 – the leading superapp's flagship food and beverage recognition program – with the announcement of this year's winners. From September to October 2023, Fan Faves amassed an astounding number of votes from the platform's consumers, reaching into the millions across 19 food and beverage categories.
Now in its third year, GrabFood Fan Faves 2023 celebrates the top picks of its highly active user base by tallying total order as votes for each menu offering. This inclusive program extends its reach beyond Metro Manila as it also recognizes the merchant-partners from various regions across the country.
Platinum Fan Faves
Under the national category, nine menu offerings qualified as Platinum Fan Faves after garnering more than 50,000 votes each – officially earning the title 'The Country's Ultimate Favorites'. Leading the way with an extraordinary record in three categories is none other than Jollibee, securing triumph in the Burger, Fried Chicken, and Pasta categories. Jollibee's Yumburger, Chickenjoy, and Jolly Spaghetti each garnered hundreds of thousands of votes during the voting period, solidifying their status as beloved food icons.
Furthermore, other platinum winners are Mang Inasal's Extra Creamy Halo-Halo (Cold Dessert) and Paa Large-PM1 (Grilled Chicken), Starbucks' Caramel Macchiato (Coffee), McDonald's McCrispy Chicken Fillet w/ Fries Medium Meal (Combo Meal), Angel's Pizza's Creamy Spinach Dip Double Deals (Pizza), and Chowking's Siomai Chao Fan (Rice Meal).
Moreover, 39 food items have earned the title of "People-Approved Faves," achieving Gold-Tier status based on a specific threshold of total votes. Finally, we have the Trending Faves, which – consisting of equally competitive menu offerings, have garnered a substantial number of votes, following in the footsteps of the Gold-Tier winners.
Lastly, legacy restaurants and culinary movers hailing from regions beyond Metro Manila also received well-deserved recognition through the Regional Faves program. This initiative brings the limelight to three restaurants in Luzon, Visayas, and Mindanao.
Here is the complete list of winners of GrabFood Fan Faves 2023.
Platinum Awardees: The Country's Ultimate Favorites
Burger
Coffee
Cold Dessert

Mang Inasal's Extra Creamy Halo-Halo

Combo Meals

McDonald's McCrispy Chicken Fillet w/ Fries Medium Meal

Fried Chicken
Pasta

Jollibee's Jolly Spaghetti

Pizza

Angel Pizza's Creamy Spinach Dip Double Deals

Rice Meal

Chowking's Siomao Chao Fan

Grilled Chicken

Mang Inasal's Paa Large – PM1
Gold Awardees: People-approved Faves
Boneless Chicken

Burger King's X-tra Long Chicken Jr. Sandwich

Burger

Burger King's Whopper Jr. Meal

Coffee

Pick-up Coffee's Kape Kastila; Dunkin's Iced Coffee Extra Large

Cold Dessert

Chowking's Super Sangkap Halo-Halo

Combo Meals

Chowking's Chinese-Style Fried Chicken Lauriat
Kenny Rogers Roasters' Solo A Roasted Chicken
Greenwich's Pizza Loaded Combo E
KFC's Ala King Zinger Steak w/ Corn Combo Meal
Shakey's Pizza's Original Bunch of Lunch – Grab
Popeyes Chicken's 1-pc Chicken + Rice + Cajun Fries + Drink

Dessert

Jollibee's Peach Mango Pie
Lola Nena's LN Classic Donuts
Red Ribbon's Chocolate Dedication Cake 8×8

Fried Chicken

KFC's 1-pc Chicken Ala Carte
Bon Chon's 2-Pc Korean Fried Chicken Ala Carte
Frankies New York Buffalo Wings' Frankie's Classic Buffalo Regular Wings Premium

Fries

Jollibee's Jolly Crispy Fries
Potato Corner's Tera Fries
Army Navy's Freedom Fries

Healthy Options

SaladStop's Hail Caesar Wrap!
Subway's Subway 6″ Meal

Milk Tea

CoCo Fresh Tea & Juice's Panda Milk Tea
Macao Imperial Tea's Cheesecake and Pearl Milk Tea

Pasta

Greenwich's Lasagna Supreme
Amber's Spaghetti with Meat Sauce

Pizza

Pizza Hut's 39% off on Super Supreme
S&R New York Style Pizza's 18" Combo

Premium Burger

Burger King's 4-Cheese Whopper Jr. Meal
McDonald's Big Mac w/ Fries Medium Meal

Rice Meal

Paotsin's Fried Dumplings with Hainanese Rice
Sinangag Express' Tapsilog
Rodic's Diner's Tapsilog
Silogan ni Gian's Porksilog
Marugame Udon's Gyudon
Panda Express' Plate

Grilled Chicken

Kenny Rogers Roasters' Solo B Roasted Chicken
Chooks To Go's Oven Roasted Chicken – Sweet Roast
Baliwag Lechon Manok's Manok (Whole)
Trending Faves Winners: Trending Faves on the rise
Tropical Hut Hamburger

Chicken Macaroni Salad
Clubhouse Sandwich – Solo
Chicken Sandwich – Solo

Yoshinoya
Seattle's Best Coffee

Buy 1, Take 1 Large Iced White Chocolate Mocha

Manam
99 Peso Sulit Chicken

Soy Garlic Chicken Karaage Bowl (Best Seller!)

BOK Korean Fried Chicken
Thai Mango
Balai Pandesal
Happilee Korean Kitchen

Mini Kimbap – Spicy Pork 5pcs.

David's Tea House
Regional Faves Winners
Luzon

La Brent Tea and Cafe (Baguio)
Hodori Korean Restaurant (Baguio)
Ricebox Juicebox (Pampanga)

Visayas

Jafar's Shawarma Station (Cebu)
Orange Brutus (Cebu)
Prutasan ni Adan (Cebu)

Mindanao

Wow Lechon (Davao)
Frkn' Brgrs (Cagayan De Oro)
Chingkeetea (Cagayan De Oro)
GrabFood Director for Deliveries Greg Camacho shares, "Fan Faves 2023 serves as a testament to our dedication to building a reliable connection between our widest selection of merchants and our highly engaged users as they fulfill their unique cravings. It is also a celebration of the culinary excellence and top-notch service that our platform champions. Thus, we extend this celebration to all of the stakeholders that we serve – from consumers and entrepreneurs, to every delivery-partner on the road."
Visit the Fan Faves 2023 microsite for more details on the winners this year. https://grabfanfaves.com/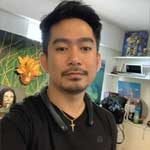 Josh Austria
Aside from being a businessman, Josh Austria has been working in PR and media industry for more more than a decade. From his years of experience as the Marketing and Advertising Head of Village Pipol Magazine, he has built strong relationships with creative people, brands, and organizations.