With a charming face and an alluring figure, no wonder Chelsea Lovely Fernandez lives by her name. But there's something more about her, more about her angelic beauty. This 21-year old woman from Tacloban gave an impressive performance in Miss Earth Philippines 2019 so she was hailed as Miss Water. There's no force stopping her as she won the crown for Miss Bikini Philippines 2020 this February!
Always bringing the A game in beauty pageants
Chelsea has been joining beauty pageants since 14 years old and because of that, she is always want to be mindful of her health and body. She is also motivated to share a more body-positive perception of living with other people. After years of experience, her discipline and determination certainly did not go to waste. When she joined the prestigious Ms. Philippines Earth, she was able to bag the award Ms. Philippines Eart-Water 2019.
She did not let the pressure overwhelmed her and she did her best despite the negativity from the critics and the bashers. She joined a virtual pageant called Ms. GCQUEST wherein she chose to advocate for DIWA. She won the said pageants so she was able to help UP Ikot jeepney drivers through the organization.
She continues to push herself to the top so she won Ms. Bikini Philippines 2020-2021. Relaunched in 2019 by ProMedia, Miss Bikini Philippines embodies holistic beauty that includes intelligence, health, and fitness.
The third episode saw hosts Angelia Ong and Sean Kyle Ortega give a glimpse into the screening process and the series of training sessions which helped the candidates epitomize total beauty. Special Awards winners and the Top 10 finalists were announced before the winners were announced.
Holistic approach in health, fitness, and beauty
We got curious how does this young lady manage to stay fit and glowing even with the hectic schedule during beauty pageants. Thankfully, we had an exclusive interview with Chelsea Lovely Fernandez so would like to share her fresh insights on how she takes care of herself!

1. Can you describe yourself?
This is a question that I really find difficult to answer but only because I feel like my personality depends on the situation that I'm in. I'm an introvert, my room is my safe zone, spending my time organizing my stuff, watching documentaries, or play the ukulele. Nothing beats feeling the serenity in solace, interestingly enough, I also find a different kind of joy in the adrenaline rush brought by being on stage.

There's something about putting myself out there and being vulnerable at the same time that lights my fire. The goal-setting part of preparing for the pageant interests me because it serves as a validation of my dreams. I also want to pursue my goal of being a news anchor, the social responsibilities of being in media draw me to find a spot for myself in that industry someday.

2. How do you handle bashings/criticisms on social media?
I always make it a point to read criticisms, that even if some of them can really get to me, I still believe that they're part of my personal development. What I am working on is turning the usual despair of feeling inadequate into motivation so they would become my drivers to do better and be better.

3. What are the things you usually do during your free time?
My free time is sacred so I spend it intentionally. I do things that will nourish my mental well being like playing the ukulele, watch movies, and read motivational books. The pageant life is a high frequency so I want to really do things that make me happy whenever I have the chance to be, so when it's a go time again then, I can put the best version of myself in the spotlight.

4. What are some diet tips you can share with our readers?
I try to eat as healthy as I could. At the moment, I'm trying to gain weight, so I gorge on protein and my vegetables. More than anything, I want to have physical and mental energy every day. For now, this is the only thing I can share with all of you.

5. What kind of exercises do you have to maintain your curvy yet slim figure?
I allot gym time, three days a week. My favorite routines are planking, squats, v ups, wall push-ups, and hip raises. These are what works for me and I can totally say that these are really effective workouts to try.

6. Can you also share some beauty tips, like what's your beauty routine at night time?
With having very sensitive skin and being acne-prone, I have to be very strict with the make-ups and facial care products I use. Hydrate!!!!! drinking water always works wonders! Another must-do is washing make-up off my face before sleeping. Please, ladies, always, always wash your face before embracing the bed.

7. During this new normal, what are the things that you do to take care of your mental health?
It had been a challenging time for me, my anxiety skyrocketed and so I had to be in constant communication with my family. I find their support, their voices, and words of encouragement as a soothing balm and source of comfort. Their outpouring love makes every waking day more valuable for me and that in itself helps me to process things better mentally and emotionally, just having people who are rooting for me wholeheartedly. I listen to music, especially to my favorites, write a lot about my fears, my goals, and my dreams. Taking a break from social media also helps me in magnanimous ways to regroup my thoughts. Sometimes, having a break in social media is something that we should do more often.
Based on her answers above, Chelsea definitely proves her wisdom and maturity in making good life decisions. Even though she's determined to achieve her goals, she makes time to heal and nourish her body and mind. Queens need their rest too, right?
Produced by Josh Austria
Words by Queenie Lastra
Photography | Jai Murcillo
Stylist |  Kitkat Melo
Designer | John Robert Powers and Jeffrey Tope
Hair by King Jordan Manginag and Robert Nocheda
Makeup by Drew Argellues and Richard Darojy Traje
Studio | VP Studio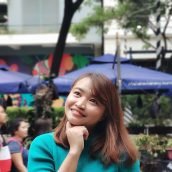 Hailey Alcantara
Queenie Lasta got her bachelor's degree in Communications Research from UP Diliman. In her free time, she likes to read thriller novels, psychology books, and mangas. She believes in the importance of grit, hard work, and passion to become a great writer in the future.