Breaking Gender Stereotypes: Cream Silk partners with Ben&Ben
We don't want hair breakage but we love to break gender stereotypes. Cream Silk announced twin brothers and Miguel Benjamin and Paolo Benjamin Guico of the band Ben&Ben as their newest endorsers. Miguel and Paolo are the vocalists of the nine-piece OPM band, Ben&Ben.
Cream Silk welcomes Miguel and Paolo to the fam
In a five-minute unboxing video on Youtube, the haircare brand surprised the twin with a PR package. The twin seemed left in amazement when they opened the package. The package contained Cream Silk x Ben&Ben collaboration merchandise including the Cream Silk bottle with their face printed on it.
"Totohanan na talaga ang Cream Silk x Ben & Ben collab!"
Break Gender Stereotypes: Cream Silk partners with Ben&Ben
With this mahiwagang collaboration, Ben&Ben together with Cream Silk break the gender stereotypes. For many years, the brand's models were women. This marks the first time Cream Silk came out with a guy model. Conditioner is not just for women; men's hair requires care as well. You've probably had a horrible hair day, regardless of your gender.
Paolo said.
"It's an honor to break gender stereotypes."
How did the collaboration happen?
Miguel and Paolo recalled that all of this started from a meme. In February, Ben&Ben's official Twitter account posted images of Cream Silk products modified with the Guico twin as models. The tweet garnered 57.7K likes. The haircare band immediately noticed the meme. Cream Silk then retweeted the meme with the caption," Gusto niyo totohanin para 'di na lang 'to #KathangIsip?"
Now the question goes like this, "If Cream Silk ang gagamitin mo, pipiliin ka na ba sa araw-araw?" okay, never mind. The important thing is Ben&Ben will be having an online concert!
Before the video ends, Ben&Ben revealed that they are scheduled to have an online concert on August 8. Liwanag save the date!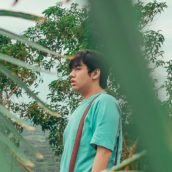 Ivan Royce Pedron
Ivan Royce is a journalism student from Cavite State University. Aside from being a writer, he is also a video content creator, photographer, and graphic designer. He likes to drink…. Coffee, tea, or maybe alcohol. Ask him for recommendations!