Several Filipino celebrities have been trying out new opportunities in foreign countries. Sure, we will be missing their faces on the big screen. However, we're eager to see them succeed abroad. One of them is the former actress and host Donita Rose who returned to the United States for good. She is now officially a corporate research and development chef there!
Donita Rose develops new recipes for the Asian supermarket chain
Surely, a lot of 90's kids will remember Donita Rose as the charming and fun VJ of the show MTV. Before leaving the country, Donita studied at the Academy for International Culinary Arts (AICA) and earned her degree in 2012. She also hosted a cooking show on GMA-7 before going back to the United States.
But now, she is doing great as a chef in Island Pacific Market. The company is a family-owned chain that sells Filipino goods. It has branches in California and Nevada. According to Donita, she's currently in charge of creating new recipes for the Asian supermarket chain. She even posted her milestone on Instagram with a caption:
"It's official! You are now looking @islandpacificmarket's corporate R&D chef. Wait 'til you see what we've been working on together with @gtongi & @maricelaguilar2010 to bring Philippine cuisine to the next level."
View this post on Instagram
It seems that she tagged G Tongi, who is also a former MTV VJ and based in the same country as hers. Tongi is the marketing and branding consultant of Island Pacific. During her interview on 24 Oras, Donita shared that she's looking for ways to highlight modern Filipino cuisine.
Promoting Filipino cuisine to the foreign market
Aside from that, she opened up about cooking and being a working professional in the US.
"I'm always developing new recipes. That's the fun part about it. It's kind of like reinventing the wheel. Sinigang is sinigang. How do you make sinigang new?"
The former MTV VJ admits she is glad that our food had a foreign market.
"Those who are not used to Filipino food, I talk to them like, you know what, binagoongan is a staple in the Philippines. You should actually open your mind to it."
View this post on Instagram
Even though her career is flourishing in the US, Donita said that she's trying to search for jobs that allowed her to be in front of the camera. She added,
"I've only done one and they contacted me which was a huge surprise. It was for a baking show, to be a co-host."
At the end of the interview, Donita Rose said that she's not closing her doors on coming back here to continue her showbiz career.
View this post on Instagram
Best of luck to you, Donita!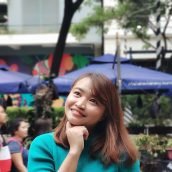 Queenie Lastra
Queenie Lasta got her bachelor's degree in Communications Research from UP Diliman. In her free time, she likes to read thriller novels, psychology books, and mangas. She believes in the importance of grit, hard work, and passion to become a great writer in the future.