Alab ng Puso: Rico Blanco dedicates song to Hidilyn Diaz
We can't get over it! Hidilyn Diaz made everyone proud as she secured the Philippines' first-ever gold medal in Olympics. Rico Blanco released a re-recorded version of the Rivermaya song Alab Ng Puso to honor Olympic gold winner. On July 26, the weightlifter made history after defeating China's world record holder Liao Quiyun in the Tokyo Olympics. She broke the Philippines' gold medal drought after lifting a total of 224 kilos.
Alab ng Puso: Rico Blanco dedicates song to Hidilyn Diaz
Hexpressed how proud he is of Hidilyn. He went on to say that his love for music is comparable to, if not greater than, his love for sports. Moreover, Rico said that Hidilyn lifted the dreams of every Filipino. He revealed he immediately did the recording as he could not contain his inspiration to the athlete. As of writing, the video already hit almost 60,000 views on Youtube. The music is about keeping your heart's desire burning. Even there would be a lot of hardships and no one is believing in you, you should keep your head up. And believing that someday you will have your own tagumpay!
Aside from ruling the 2020 Tokyo Olympics, Hidilyn also won a silver medalist at the 2016  Rio Olympics. In addition, she bagged gold medals at the 2018 Asian Games and 2019 Southeast Asian Games. Hidilyn Diaz's journey will surely go down in history.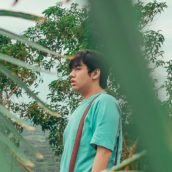 Ivan Royce Pedron
Ivan Royce is a journalism student from Cavite State University. Aside from being a writer, he is also a video content creator, photographer, and graphic designer. He likes to drink…. Coffee, tea, or maybe alcohol. Ask him for recommendations!