A single photograph can tell a complete narrative.  The camera captures the very moment. Photos preserved those precious and irreplaceable moments that already passed. It might be a happy or sad one. It also encompasses the soul of whoever stares into it. Moreover, I always believe that we can learn from other's personal experiences and stories. Every people in the world has their own unique perception of the world. We all started from being strangers. And, sometimes a stranger can give great purpose to your life.
Meet Mark Kelvin, a famous photographer on Tiktok that tells and captures stories of strangers.
We all start somewhere. For Kelvin, during his college years, basic photography was part of the Media Studies curriculum in Ateneo de Naga. He shared that photography caught his interest since he's also a graphite artist. He added that a photo is like a painting with just one click. Back when he was in college, Kelvin is just borrowing his friend's camera until he graduated. It motivated Kelvin to have his own camera.
"I saw art in photography similarly when I'm doing graphite portraits. It was like painting with just one click of the camera's shutter."
Kelvin went on sharing his first experience as a professional photographer. It was an engagement photoshoot. Despite the fact that he was disorganized and nervous at the time, he stated that it was nonetheless a fulfilling experience.
Mark Kelvin shoot strangers for free
When doing photoshoots, the photographer and the model collaborate to have a great photo. Mark Kelvin challenged himself by doing photoshoots with strangers. It's not easy as you need to build an instant connection. Kelvin shared that he decided to shoot strangers when he came across a video of a foreign photographer doing shoots with strangers.
"[Photographing stangers] was pretty tricky and interesting, I gave it a shot; hence, putting my interest in photography to the next level. I began photographing random people and posted them on TikTok. It was a fresh start."
Kelvin opens up on how a stranger touches his heart
Surely, Kelvin already had a lot of photoshoots with strangers. But John Mark's story moved him. On his way home, he came across John Mark, a 28-year-old portrait artist. He saw him making portraits on the steps of a footbridge in Quiapo. A portrait costs P100 only. John Mark uses his earnings to provide for family needs. Kelvin said that taking photos of John Mark also signifies capturing his talent.
"Taking John Mark's photographs was also a means of capturing one's talent regardless of disability. I wanted to show to the TikTok community and the world that local and unknown artists could also be recognized and valued."
True enough, a single photo tells a million stories, even those things that are difficult to explain.
Mark Kelvin chose TikTok to share his photoshoots
Mark Kelvin uploaded his videos on the short-form video application, TikTok. When asked why he chose TikTok as a platform to share his photoshoots, he recalled that he never saw himself doing content on TikTok. His first video post was a dance video. His first viral photography content was a photoshoot with his neighbor.
"The community on the platform is insane. If the content is good, informative, and hilarious, the video suddenly goes viral. That was when I began having so much interest in doing content on TikTok, especially photography-related videos."
His photoshoot with Erica has 16.8 million views, making it his most viewed video to date. It was on Batangas Beach. he was looking for a subject and Erica caught his attention. Erica is that friend who is always supportive when it comes to taking photos. She is lying on the sand as she tries to look for a good angle to take good photos of her friends.
"I believed that content touched a lot of hearts, especially those who have minimal or lacking self-confidence just because they are not skinny, or sexy, or didn't fit into society's definition of "beauty." I realized that what I did was to boost someone's self-esteem, trust, and love for themselves. It was a reminder for everyone that we are all beautiful, no matter what we are, no matter who we are."
Despite the fact that Kelvin's content is great, he admitted that he occasionally receives negative comments. However, he uses those comments as fuel to give his best and surpass his old works. He has now 1.8 million followers and 20.4 million likes on TikTok
"Because I received many hate speech and negative comments from my content, I became more motivated to give my best and surpass my old works. I even spent a lot of time thinking and conceptualizing new subjects and stories while scouting for a stranger model. My efforts were a combination of content conceptualizing, photo editing, BTS videos or behind the scenes, and storytelling."
Kelvin reveals his primary intention
I asked Kelvin what he wants people to notice first when they see his photos. He said that his primary intention was to make them feel and touch their hearts.
"Every time they would see my photographs online, I wanted them to boost their inner self. I wanted them to relate or feel a connection with my subjects. I wanted them to see themselves as if they were the ones I was taking a photo with. That is my purpose: to make them feel and establish a connection."
For him, there is no perfect subject. But for him, a good subject is someone with whom he may be able to have a connection. He also considers inclusivity to ensure that no one is left behind. 
"There is no perfect subject. Choosing a subject is not easy as it seems. Taking a photograph and framing the subject while looking at the viewfinder is all about the story that the photographer wants to tell. It is not just about fashionable clothes or a model's physique. It is about how you wanted a particular subject to be presented, to be framed."
We all have our own definition of a "great photo," for Mark Kelvin, a great photo mirrors the heart and soul of the photographer.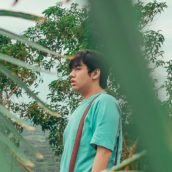 Ivan Royce Pedron
Ivan Royce is a journalism student from Cavite State University. Aside from being a writer, he is also a video content creator, photographer, and graphic designer. He likes to drink…. Coffee, tea, or maybe alcohol. Ask him for recommendations!