The world's best low-cost airline welcomes growth in international passengers notwithstanding the increase in fuel surcharge.
AirAsia Philippines aims to attain as high as 70 percent of its pre-COVID capacity for international routes come Q4 of this year. Supporting this vision is the airline's growing frequency to various Asean countries which AirAsia Philippines recently restarted, such as Hong Kong, Kota Kinabalu, Malaysia and Seoul, South Korea.
Joining AirAsia Philippines' roster of operating international routes starting July 01 is Manila-Singapore. The world's best low-cost airline is set to fly to the Lion City four times weekly. The schedule falls every Monday, Wednesday, Friday, and Sunday. The airline is expecting to fly almost 10,000 guests to Singapore in Q3 of this year.
AirAsia Philippines Spokesperson and Head of Communications and Public Affairs Steve Dailisan shares,
"Our aggressiveness in expanding our domestic route network also manifests in our resumption strategy for international routes. This is in service of Filipino globetrotters and Overseas Filipino Workers who wish to explore the tourism and economic opportunities present abroad."
See Also
The international guest count of AirAsia Philippines continues to rise gradually month on month. It grows total guests flown abroad in June 2022 by 354 percent versus May 2022. AirAsia further supports the increase in its international customers. It has a 10 percent discount for its Manila-Singapore flights for travels happening from July 01, 2022 – March 25, 2023. Interested guests may avail of the discount from June 27 to July 03.
AirAsia believes that the demand for travel will remain undampened. This is in spite of the rise in fuel surcharge costs amid volatile fuel pricing globally. "We at AirAsia Philippines work with the Civil Aeronautics Board in the strategic application of fuel surcharge cost. We assure our guests that despite the surcharge, our base fares will remain to be the most competitive in the market, complemented by additional discount promos monthly," Dailisan adds. AirAsia Philippines also encourages guests to book one month and above in advance to avail of friendlier rates and ongoing discounts.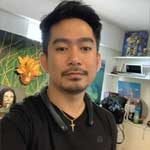 Josh Austria
Aside from being a businessman, Josh Austria has been working in PR and media industry for more more than a decade. From his years of experience as the Marketing and Advertising Head of Village Pipol Magazine, he has built strong relationships with creative people, brands, and organizations.