Spotify Philippines spills most streamed artists, songs, albums of 2022
Photo from Spotify Philippines
Leading music streaming service provider Spotify arrived at its annual wrap, revealing the top artists, songs, and albums dominating Filipino listeners this 2022.
Calling the custom Spotify Wrapped, the platform released the rundown at approximately 9 pm yesterday, Nylon reported. It showed music rankings, a personal summary of a user's experience, and a classification of their personality and taste.
Spotify Wrapped unveiled that Taylor Swift is the most streamed artist in the country. K-Pop icons BTS ranked second, followed by OPM pride-bearer Zack Tabudlo and Ben&Ben. Justin Bieber, on the other hand, occupied the fifth spot.
Meanwhile, Zack Tabudlo is the Philippines' most streamed artist of 2022 in the local rankings. Succeeding him are folk-rock band Ben&Ben and solo singers Arthur Nery, Moira Dela Torre, and Adie.
Furthermore, Spotify Wrapped also dropped its top five list of most streamed songs and albums. The top local tracks for Filipinos are NOBITA's "Ikaw Lang," Arthur Nery's "Pagsamo," Adie's "Paraluman," Zack Tabudlo's "Pano" and Arthur Nery's "Isa Lang."
See Also
Hallyu superstars BTS positioned their "Proof" atop the list of most streamed albums. Tabudlo is the sole full-blooded Filipino artist to enter this category through his "Episode." The remaining spots were clinched by Taylor Swift's "Red," Olivia Rodrigo's "Sour," and again Swift with her "Midnights."
For this year's edition, Spotify Wrapped added a new segment called "Your Artist Message." Fans received from their feeds thank-you messages from their favorite artist of the year. Spotify also gave each user a customized playlist with 100 tailored songs.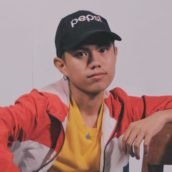 Renzneil Robles
Renzo is an introvert who prefers to do things at his own pace. Unlike most writers, he reads lazily. Watching Korean dramas at night is his constant source of comfort. Although oftentimes commended for being outspoken, he speaks better through writing than with his words.