Maria Chantal Videla, whose stage name is "Chanty", is a Filipino-Argentinian actress from the Philippines, now a KPOP Idol in the group Lapillus.
Chanty is the vocalist and face of the group Lapillus. They made their debut with the digital single album Hit Ya! on June 20, 2022.
Filipino KPOP fans are so happy upon knowing that a Filipina will be a part of South Korea's music industry. Chanty received lots of support and love from Filipinos after hearing the news.
But did you know? Before her KPOP career, Chanty was an actress here in the Philippines under ABS-CBN.
Let's get to know her more!
Multilingual Princess
Chanty is looking so lovely and vibrant in this photo with this white dress with a ribbon.
By her smile and the way her eyes sparkle, you can see how cheerful she is as a person.
If you meet her on the way, she'll greet you back when you approach her. With the different languages she speaks, you'll understand each other!
Since Chanty was born to a Filipino mom and an Argentinian dad, she grew up bilingual and can speak both Tagalog and Spanish.
Aside from these, she also knows how to speak fluently in English as well as Korean.
During the Lapillus Debut Showcase, Chanty was asked to express what she feels in four different languages.
She expressed how happy she is to be debuting with Lapillus together with her beautiful fellow members.
Actress Chantal
With her Sunkissed photo and beautiful smile, she got the visuals that you often want to see on television!
Being a KPOP Idol, you have the talent for singing and dancing, and guess what? Chanty knows how to act too!
In the Philippines, she was known as Chantal Videla, an actress from Star Magic under the ABS-CBN Network.
She played a major role in Spirits Reawaken (2018), also played a role in the comedy film Familia Blondina (2019), and in a fantasy-drama TV series, Hiwaga ng Kambat (2019).
Stunning Visuals
Chanty is so cute and pretty at the same time with her white sweater outfit and cap!
She's stunning in any outfit she wears! No wonder why she's Lapillus visual.
In the same way, her fans probably compare her looks to those of Olivia Rodrigo, a Filipino-American singer, and Nancy from MOMOLAND.
Her beautiful face was even more highlighted as she appeared in the R&B duo JT & Marcus' music videos, "Dear You" and "First".
Simply Chanty
Her eyes look genuinely happy and dreamy in this photo!
She is not only an idol, but also a simple and fun-loving person!
Aside from improving as an idol through training and practice, Chanty loves to find new quotes and watch dramas.
See Also
Her favorite K-dramas are Goblin, Descendant of the Suns, and It's Okay Not to Be Okay.
She also plays soccer and can play instruments like the piano and ukelele.
She works hard and, at the same time, enjoys the simple things that life can offer.
Full Dreams and Hope
Nothing could look more fascinating than Chanty in pink! Like the color she wears, she is a person with a lot of dreams and hope.
You will often read about her gratefulness in life through her captions in Instagram posts.
She does not only use her talent for popularity but to inspire people as well.
Her motto is: Nothing can dim the light that shines from within.
This is surely why Chanty gets what she deserves from working hard and keeping a positive outlook on life.
She's a woman who's going to be more successful someday!
Follow her on Twitter @itsmaria.chantal to stay up to date on her latest endeavors!
We're wishing you more goals to achieve in life, Chanty!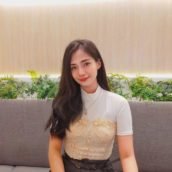 Veronica Louis Gannaban
Nica is a resin artist, watercolor painter, and writer. She loves putting art into life because it feels liberating. She believes that the most powerful form of art is through words, for it can set us free. Her life is sweeter than fiction because of Taylor Swift's music, fur babies, and chick flick movies.