An exciting and refreshing collaboration was born after the P-Pop group VXON joined forces with singer Zephanie to render a new love song.
Last August 7, the quintet revealed among their social media followers that they would be singing "Luv Is," the official soundtrack of GMA's newest series.
The song is the combined efforts of all members who helped each other compose the music, write the lyrics, and form its choreography.
On the other hand, collaborating with VXON is Zephanie Dimaranan, the grand champion of the first season of Idol Philippines. In addition, the 19-year-old recently signed GMA artist is called "This Generation's Pop Princess."
VXON's latest track is the OST to the television drama "Luv Is: Caught in His Arms." It is set to air in October this year.
Furthermore, the story is based on a Wattpad web novel by Ventre Canard. It is also the first out of a serial adaptation earlier announced by GMA-7 and Wattpad Webtoon Studios.
Leading Luv Is: Caught in His Arms are uprising artists Sofia Pablo and Allen Ansay, who will take on significant roles. Meanwhile, the rest of the cast will introduce the promising talents of GMA's Sparkle.
See Also
To name a few, Vince Maristela, Raheel Bhyria, Michael Sager, and Sean Lucas will be supporting characters. Caitlyn Stave, Cheska Fausto, Tanya Ramos, and Kirsten Gonzales will also be included.
Following the reveal on August 7, VXON and Zephanie shared the stage for the debut TV performance of Luv Is. They sang the new romantic piece at GMA's All-Out Sundays, where VXON is a frequent guest performer.
The official audio and lyric video for Luv Is are now uploaded on YouTube. Stream it now, Vixies!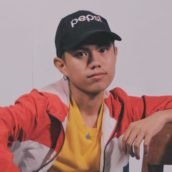 Renzneil Robles
Renzo is an introvert who prefers to do things at his own pace. Unlike most writers, he reads lazily. Watching Korean dramas at night is his constant source of comfort. Although oftentimes commended for being outspoken, he speaks better through writing than with his words.