Did you know that Disney Pixar's 'Soul' has a Filipino art director
Photo by Ruben Napales
Netizens can't help but talk about how great Disney Pixar's newest film 'Soul' is. But little did we know, a Pinoy Sets Art Director is behind this amazing movie. He is none other than Paul Abadilla!
About Paul and his job as an Art Director
The movie 'Soul' centers on the life of Joe Gardner who is a middle school music teacher who has a dream of becoming a jazz musician. Unfortunately, he fell in a manhole then died. After that, he woke up as a soul heading into 'Great Beyond'.
Paul Abadilla already made many award-winning films including Incredibles 2, Cars 3, and Brave. But being the Art Director for the movie 'Soul' brought challenges. He said, "Oh, man. I love that I still get to draw. I think the thing that I found very challenging was that I was rarely at my desk. That meant I was in more meetings, and working with people face to face more, and workshopping problems. So it's really about team building and building community between the art department and the sets department. And that's really the fun part for me."
His fondness for music and his childhood memories in the Philippines
He admits that he did not have much time for drawing. But if have the availability to do that, he makes sure he's more efficient with the work. When it comes to jazz music, Paul said that he has to play music every time he works. "Music is something that I've loved ever since I was a young person, and on my own, whether it be at work or in my personal work, I always have music on. It gets me into the zone right away. It gets me into the groove and the flow of things so that I'm enjoying what I do." He loves jazz but his taste in music is quite eclectic.
Paul Abadilla shared that there are other Pinoy animators who worked with him in this film. One is a veteran named Nelson Bohol. He's one of the key set designers who is mainly responsible for designing a lot of the sets.
Paul said that if ever he becomes a director, he'll create a story about his childhood in the Philippines. "I moved here to the Bay Area when I was seven, and there's definitely a lot of little moments that I thought was really special when I was living as a kid in Manila. Maybe there's something there, who knows?"
We're certainly proud of Paul Abadilla's excellence in his work and his passion for his craft. May we have more Pinoy animators who will have the opportunity to showcase their talent worldwide.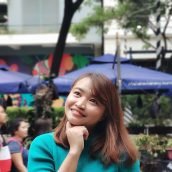 Queenie Lastra
Queenie Lasta got her bachelor's degree in Communications Research from UP Diliman. In her free time, she likes to read thriller novels, psychology books, and mangas. She believes in the importance of grit, hard work, and passion to become a great writer in the future.