With the shift of online classes and work being online, having a laptop that provides the best quality and productivity is a must. One of the top priorities of every laptop owner is to have a killer battery life and portability. And that's just about who Acer Swift 3 is targeting.
It ticks the boxes of having a good battery while being portable for its user. For an individual who uses Google docs, ZOOM, streaming, emailing, and other tasks that students and workers spend the day doing, the Swift 3 does the trick. It's both portable and durable, making it hassle-free and a perfect companion for someone who's always on the go.
Acer Swift 3 Portability and Durability
The swift 3 is 1.2kg and 0.63 inches thick. That means it's not the lightest 14-inch out there. Users will find all of this very durable, especially for an ultraportable laptop. The top and bottom cover is made of aluminum and the palm rest is made of magnesium-aluminum metal chassis being up to 15.95mm thin so it's very portable.
Acer Swift 3 Battery Life 
Spending all day using your laptop requires a long-lasting battery, and the Swift 3's battery will last for up to 13 hours. For emergency purposes, it can also be fast-charged to provide 4-hours use after a 30-minutes charge.
Your system will be perfectly fine at handling daily office workload for up to 8-12 hours without it being slow. The chassis won't heat up, and you won't hear any sign of the fan.
Connectivity and Build Quality
On the sides, you'll find a variety of ports. There's a power plug, an HDMI, and a USB-C on the left. On the right side, there's a 35mm headphone jack, another USB-A, and a Kensington lock slot.
Its dual-band Wi-Fi 6 (802.11ax) improves the average network throughout by up to 3 times and reduces latency by up to 75% compared to Wi-Fi 5 (802.11ac). Throughout the use of full function USB-C SuperSpeed USB 10 Gbps, users get superfast data transfer and display port functionality and it can also be used for power delivery.
The touchpad and backlit keyboard use a matching silver as the rest of the laptop. The keyboard is one of the highlights of the laptop's design because of the feeling of the keyboard when you type.  The Swift 3 also has a fingerprint reader for Windows Hello authentication, which is just situated on the lower right side below the keyboard. It gives a decent amount of precision gestures. It is both fast and reliable because it takes less than a second to authenticate. No more passwords here, all it takes is just one tap of your finger.
One more cool thing about the Swift 3 is its Wake On Voice (WoV). This enables users to activate and query Windows 10 when the screen is off. It also allows interaction with Cortana while the device is on Modern Standby mode.
Precision Imagery and Performance 
Eye-popping colors and details bring images and videos come to life. With the use of thin bezels of up to 5.5mm and a screen-to-body ratio of up to 82.73%, users see more of the 14" FHD IPS screen.
Overall, its display and colors are sharp enough. It runs on a 1080 display at 100% scaling, which works well for any user that does not require heavy graphics.
Since the Swift screen is non-touch and IPS, it is matte. Compared with their shiny counterparts, they have lost a bit of vitality, but they also have no reflections.
When it comes to performance, however, the Swift 3 nailed it. This Acer Swift 3 is classified under the Intel Evo Platform with the latest 11th Gen Intel Core processor i5 with 500GB PCle NVMe SSD and up to 8GB RAM.
In conclusion, the Acer Swift 3 comes with compromises. It's not a convertible device, there's no touchscreen, and the design is just something out of the ordinary. However, if you're looking for a 2-in-1 sleek, durable laptop with a decent battery and a compact form without having to break the bank, then the Acer Swift 3 is the perfect laptop for you.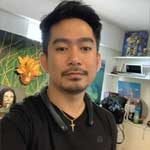 Josh Austria
Aside from being a businessman, Josh Austria has been working in PR and media industry for more more than a decade. From his years of experience as the Marketing and Advertising Head of Village Pipol Magazine, he has built strong relationships with creative people, brands, and organizations.