"Thank you, Kuya": 5 ways to show your appreciation to delivery riders
Delivery riders always have it tough. They always endure the heavy traffic, pollution, and changing weather. Not to mention, they are also frontliners as they risk their safety just to hand over your orders.
Sad to say, there are still people who don't feel any empathy towards these riders. One proof is the viral video of an Angkas rider who was tearing up after receiving a "fake order" past midnight.
Thankfully, there are good samaritans like the vlogger Hungry Syrian Wanderer who performed an act of kindness to some food delivery riders by giving them cash gifts.
Although we cannot do grand gestures to thank industrious delivery riders, here are simple ways to show our respect and gratitude:
Claim your orders
Unfortunately, there are heartless individuals who think it's funny to pull a prank on these delivery drivers. In September 2020, 10 food delivery riders were scammed after someone pretended to be a customer, using an address that didn't belong to him/her.
As I've mentioned, do not ever think of pulling a prank on them. Just like us, they are trying their best to make a living during this pandemic. When we cancel a food order, the riders pay for it on our behalf.
If you cancel an order, you waste their money, their time, and their effort when they are merely trying to do an honest day's work. If you cannot show up to claim your Shopee or Lazada delivery, you can ask your relatives, neighbors, or guards to receive it for you. I already experienced this so many times, but good thing I already paid for my parcel in advance.
Give extra face masks
A Pinoy geologist named Mahar Lagmay posted a photo on Twitter, suggesting that those who frequently use delivery services give riders extra masks.
"You will notice that most of the delivery guys don't wear masks, they just use those thin bandanas wrapped around their faces. If you have an extra mask, please do give them. Iba yung liwanag ng face nila every time they receive one, at sinusuot nila agad."
This may seem like a small gesture for us, but it can be a big help for our riders to protect themselves. If you have an abundant supply of face masks at home, sharing a few won't hurt your wallet.
Offer them water
We all know how hot and scorching the sun is in the Philippines, even if it's not summer. Can you just imagine what it might be like for delivery riders who are on the road for almost a whole day?
Make sure to offer delivery riders some water. You can simply give them a glass or a plastic cup of cold water to quench their thirst. If they have tumblers or water bottles, you can also offer to refill them.
Use cashless payment if possible
To help reduce the risk of contracting the virus, let us use contactless payment options as much as we can. Big companies like Grab Food, Shopee, or Lazada have cashless payment options we can use when ordering something.
This is much better, especially if you often leave your house and there's no one to pay for it. Also, it saves you and the rider time since you don't have to look for spare coins to pay for the exact amount.
See Also
Tip the riders, whatever amount it is
Food couriers like Grab, for example, are now offering services wherein you can "tip" your rider directly from their apps. You can choose the amount for the tip (the lowest is 20 pesos), and it will be automatically added to your total bill.
However, if you are not comfortable tipping with money, food couriers also allow customers to order meals for their riders. Simply select the "Order for your rider!" option on your preferred food delivery application and choose the meal you want to purchase for them.
A single meal can fuel them to power through an exhausting workday, and it only takes a few clicks.
Be kind and courteous
This is the least we can do for them. Treat them with kindness. We may, sometimes, forget that our delivery riders are risking their health just to earn a living and take care of their families.
Show them respect, avoid cursing or shouting, and wish them well as they go on their way. It doesn't take a lot to be a decent human being. A short "Thank you, Kuya" with a smile will go a long way.
Can you add more to this list? Feel free to share it in the comment section!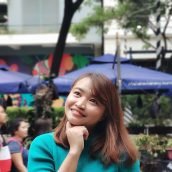 Queenie Lastra
Queenie Lasta got her bachelor's degree in Communications Research from UP Diliman. In her free time, she likes to read thriller novels, psychology books, and mangas. She believes in the importance of grit, hard work, and passion to become a great writer in the future.