GrabFood drivers won't have to worry about no-show customers starting August
Sad to say, we see stories of GrabFood drivers who encounter no-show customers. Even there was no pandemic crisis, cancellation of orders has been quite common. Without a doubt, several netizens sympathized with the Grab rider's wasted effort and cash. Thankfully, the company is doing something to fix the situation that will benefit riders.
GrabFood riders will soon no longer have to pay in advance for the delivery orders
In a hearing yesterday, Grab spokesperson and lawyer Nicka Hosaka stated that the company itself will shoulder monetary online transactions instead of the riders. In this new model, the restaurant will receive the payment straight via the app. There won't be a need to wait for the driver for cash reimbursement. Once he delivers the order to the customer, the cash collected will go straight to him. Hosaka further explained, "Everything is done online. Meron tayong mine-maintain na driver wallet, so kung ano 'yung kokolektahin niya from the eater, ito ay made-debit sa kanyang wallet."
With this new policy,  if Grab is not able to collect payment from the customer due to a no-show incident, nothing will be deducted from the driver's digital wallets. The food delivery company has s a 100 percent reimbursement process as of the moment. They only pay the riders after the reported cancellations of customers. Hosaka said that the riders currently have a PHP 1,500-limit in their digital wallets during transactions. They can also but these can be cash it out anytime they want. She added further, "We are just reversing [the process], it is already Grab who will advance it. One hundred percent of the monetary liability will now be on Grab."
Grab also clarified that the new policy will not automatically cover all of its partner establishments by August. They are planning to do it gradually by starting at 70 percent. After that, they will slowly work towards reaching their full target. Hosaka said in a text message to a publication, "[We will start with] 70 percent of our merchants. Hindi pa po lahat ng merchants will be ready for the new model by August. Gradual po 'yung pag-implement depending on the merchant."
Do you guys agree with this new policy?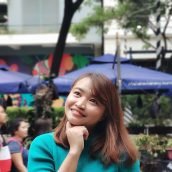 Queenie Lastra
Queenie Lasta got her bachelor's degree in Communications Research from UP Diliman. In her free time, she likes to read thriller novels, psychology books, and mangas. She believes in the importance of grit, hard work, and passion to become a great writer in the future.