YouTube Music will soon include podcasts
Photo from YouTube Music
Do you love listening to podcasts? Well, YouTube Music will introduce a feature for it soon.
At Hot Pod Summit on the morning of Friday, February 24, Kai Chuk, YouTube's head of podcasting, announced the news to Ariel Shapiro. He further details this by saying that the new feature would turn it into a bigger competitor for Spotify.
Kai and Steve McLendon, Google's product lead for podcasting, mentioned one thing. And that is how they want to add podcasting to help people make shows.
A spokesperson of the music-streaming platform relayed the news to TechCrunch, saying, "We will soon start to bring both audio and video-first podcasts to YouTube Music for users in the US, making podcasts more discoverable and accessible, with more regions to come."
On the other hand, Kai explained the upcoming podcast feature further. He said,
"If someone wants to watch a podcast, we have a solution. If someone wants to listen to a podcast only, we should have a great experience for that as well."

Kai Chuk on offering podcasts for YouTube Music users
Meanwhile, the head of podcasting shared how YouTube Music would allow free background listening to podcasts with ads. In other terms, you may listen to podcasts for free while using other apps, but you will occasionally receive ad breaks.
Kai also said the company would provide "enhanced library and podcast badges to designate audio-first shows." Explaining his and Steve's goal, he said,
"Our focus is on creators, so as long as they find it successful and helpful, that's success for us. We're just focused on the YouTube users and ecosystem and bringing podcasts into that fold."

Kai Chuck on his goal with Steve McLendon for YouTube Music podcasts
Unfortunately for podcasters, reports from the Hot Pod Summit state that YouTube isn't interested in signing exclusive deals with them. In contrast, it has been a major strategy for Spotify. As a result, people may find it easier to start their podcasts on YouTube Music.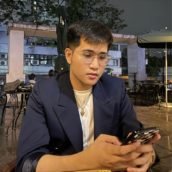 Raphael Garcia
Raphael is a person born between the generations of Millenial and Gen Z. He was produced by Cavite State University (Main Campus) with a bachelor's degree in Political Science. The lad has a fresh take on things, but can still stay true to his roots. He writes anything in Pop Culture as long as it suits his taste (if it doesn't, it's for work). He loves to wander around the cosmos and comes back with a story to publish.