Do you miss your idols whenever they do not have a comeback? Well, fans of KPOP Girl Group TWICE, the 'Onces' cannot relate!
Aside from TWICE TV, the group's second reality show, ' Time To Twice', is a gift for Onces every Friday!
This reality show's official teaser was released in March 2020, and the first episode aired in April 2020 on YouTube.
Twice film as a group with unique concepts and challenges every month, making it a show their fans anticipate every week.
TIME TO PLAY
Time to Twice is a reality show where the group members take on different challenges.
The show's first episode was a stay-home game where they play different games with corresponding points, and the winners will always have the grandest prize.
They also play Noerebang Battles, where they compete in different karaoke games, which shows Twice's naughty and creative side.
Leveling up the challenges, they had The Great Escape, where they have to find the flash drive in the building containing their comeback song.
The challenge here is they also have to deal with JYP employees who turns into zombies and save them by playing their comeback song.
Going outside, Twice also compete in the Chocolate Factory and an amusement park.
Leader Jihyo and Center Nayeon are the ambitious sisters for being competitive during games.
Likewise, Lead Rapper Dahyun is also an ace player that when the three of them are together, it's a savage for their other members!
TIME TO ACT
Time to twice did not just release the members' competitiveness but also their acting skills with role plays.
The most entertaining and quite challenging for viewers is their Crime Scene episodes.
They play characters in the crime story that is base on fiction and investigate who among them is the killer.
It highlights the members' acting skills because the killer and accomplice should try their hardest to pretend that they are not the murderer, or else they will lose, and the innocents will win.
Twice also play a role as students and teachers in their TDOONG high school where they make fun activities.
They also had a horror episode within a haunted school where Main Dancer Momo had the most hilarious reactions.
Additionally, they have this segment TDOONG Entertainment, where they are planning to launch the career of Yoo Beep Beep, a character by Lead Vocalist Jeongyeon.
Moreover, Soulmate episodes were recently aired this year, where the members with different characters act like they are in a show looking for their soulmate.
In this segment, MiChaeng's ship sails as Main Dancer Mina and Main Rapper Chaeyoung chose each other at the show's end.
TIME TO REST
After a few games and more resting, they went to a healing camp where they prepared their tents and cooked their meals.
At the ending, they also prepare heart-touching letters for their fans and staff.
See Also
They also went to Forest, not just to rest but also to try relaxing activities like combining scents to make perfume, making accessories through beads, and painting shirts.
With a little twist, they also have this segment 'YES OR NO' where each member has to decide by choosing either "Yes" or "No" without having an idea what the questions are; their answers will determine how their day will go on.
Their latest episode is titled Spring Picnic, where they take to try to remake their childhood photos, play games from their childhood, and eat delicious meals with Main Visual, Tzuyu winning the Queen's Feasts.
The highlight of this episode is writing poems and Sub Vocalist Sana had the best piece saying,
"If something goes, something else comes.

April went, and May came.

Happiness is gone, but another happiness is here."
TIME TO CELEBRATE
The group consistently gives gifts of episodes every new year, it is like starting a new year with them.
Twice will celebrate their 7th anniversary on October 20.
Since then, Twice has consistently make music that their fans will love and enjoy.
This month TWICE Nayeon is set to have her Solo album
What are you waiting for? It's TIME TO WATCH!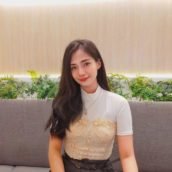 Veronica Louis Gannaban
Nica is a resin artist, watercolor painter, and writer. She loves putting art into life because it feels liberating. She believes that the most powerful form of art is through words, for it can set us free. Her life is sweeter than fiction because of Taylor Swift's music, fur babies, and chick flick movies.