SB19 unleashes new golden banger 'GENTO'
Photo | SB19 (Twitter)
SB19 has unveiled a new gem with the launch of its latest single titled GENTO, marking the start of an exciting chapter.
The P-Pop supergroup with members Pablo, Josh, Stell, Ken, and Justin released the EDM-infused pop track on Friday. The song is available on all music platforms and has an official music video uploaded on YouTube.
According to its lyrics, GENTO is a wordplay on the Filipino term "ganito" meaning "like this," and "ginto" for gold. In addition, a prior statement from leader Pablo said the piece represents SB19 and their journey's entirety. 
But otherwise, from the lens of their fans, GENTO is a declaration from the quintet as they stick firmly to their truths unapologetically. The single is also SB19's inaugural release for this year and from PAGTATAG, their second extended play approaching on June 9.
SB19 unleashes new golden banger 'GENTO'
During the premiere of GENTO, around 16,000 live viewers anticipated the music video on YouTube. The tags GENTO_MusicVideoOutNow and DI KA BASTA MAKAKAKITA NITO also occupied the trending spots on Twitter Philippines and worldwide.
Meanwhile, fans took to the comment section to share their amusement and reactions. "Another masterpiece from the P-Pop kings! Worth to stan nga naman, oo. Congratulations sa lahat ng bumuo ng GENTO," a user wrote.
Another one exclaimed, "Gento dapat! All-rounders. Everything we want to see in a group is in [SB19]. The rap, vocals, dance, that deep voice."
As of writing, GENTO has accumulated more than 100,000 views on YouTube in only four hours since it came out. The song is also trending under the music category on the video-sharing platform.
Earlier, SB19 announced a PAGTATAG! World Tour. They will kickstart a two-day concert in Manila before exploring North America and Canada.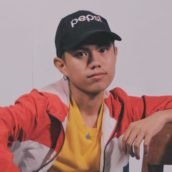 Renzneil Robles
Renzo is an introvert who prefers to do things at his own pace. Unlike most writers, he reads lazily. Watching Korean dramas at night is his constant source of comfort. Although oftentimes commended for being outspoken, he speaks better through writing than with his words.