At last, the biggest entertainment festivity tributed to the growing P-Pop industry is happening through the 2022 PPOPCON!
Coming this April 9-10, PPOPCON is an event celebrating Filipino talents and strengthening their connection to the fans. It is a first-ever and much-awaited live gathering also streaming online.
On its first day, PPCON commences through a convention at the New Frontier Theater with booths, games, merchandise selling, and performances of promising P-Pop acts as the highlight!
As it is on the horizon, it is the perfect opportunity to get to know who will be on the explosive lineup. On that note, here are the 2022 PPOPCON convention artists:
DIONE
No need to guess who is here― it is DIONE!
This upcoming girl group of FirstOne Entertainment is yet to debut but is already making waves in the P-Pop community.
CALISTA
Albeit their name means the most beautiful and feminine, this sextet is inarguably more than that.
A flock of talented Filipinas called the CALISTA, short for: call it a star!
G22
G22 is a recent girl group dubbed as P-Pop's newest caliber.
With four fierce ladies armed with talent, catch them step on the PPOPCON stage with a BANG!
KAIA
Coming from a company that catapulted exceptional talents, they are ready to overcome every struggle.
Watch out for what they can; see the potential of KAIA.
R Rules
Members of this quartet are fluent in Filipino, English, and Japanese.
Set to make an impact using their diversity, do not rule out the possibility to be enchanted by R Rules!
DAYDREAM
Speaking of diversity, DAYDREAM is another four-piece group with diverse strengths. Talented more than you can imagine, they consist of all multi-hyphenated members.
PPop Generation
Powerful voices paired with impressive dancing skills are among their deadly charms. This ensemble of 45 young performing artists invades the PPOPCON, PPop Generation!
VXON
They are known as the beasts you can resist, both revolutionary and dynamic. Tagged as the monster rookies of P-Pop, envision a one-of-a-kind experience with VXON on-stage.
And there you have the complete convention lineup! Be part of building a stronger PPOP community and further advance our local talents globally.
See you at the 2022 PPOPCON!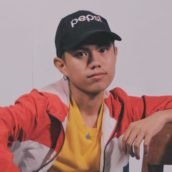 Renzneil Robles
Renzo is an introvert who prefers to do things at his own pace. Unlike most writers, he reads lazily. Watching Korean dramas at night is his constant source of comfort. Although oftentimes commended for being outspoken, he speaks better through writing than with his words.