Pablo of SB19 wins VPCA's first-ever 'Composer of the Year' Award for 'MAPA'
John Paulo Nase, a.k.a Pablo of the highly-acclaimed P-Pop ensemble SB19, has proven his songwriting prowess once again.
In the recently concluded Village Pipol Choice Awards 2021, the group leader was unanimously named the Composer of the Year. With his talent and the combined efforts of fans, the sentimental ballad track, MAPA clinched the victory.
The Composer of the Year award is among the titles under the entertainment category of the Village Pipol Choice Awards. Presented not long ago, it honors the musical artist who inspiringly conveyed message and substance through the art of songwriting.
Pablo of SB19 is the VPCA 2021 Composer of the Year
On March 26, Village Pipol unveiled the full VPCA results after the voting period that ended until March 05, 2022. Along with the opinions of the editorial team and a panel of judges, social media votes decided the winners. Thus, with a 97% overall score, Pablo edged out other candidates contending for the recognition.
Moreover, in May last year, Pablo also won the grand prize for the Djooky Music Awards (DMA) Spring Edition. It is an international song competition taking place quarterly, acknowledging artists and songwriters from all countries across the globe.
Meanwhile, MAPA by SB19 is part of Pagsibol, the quintet's debut EP released in July 2021. Pablo shared that being reminded of their parents' sacrifices amid busy careers led him to write the song. Hence, MAPA is a tribute piece for our 'mama' and 'papa.'
To add, Google ranked MAPA in fifth place among the globally top searched songs in its yearly recap. While locally, the hit track captured 6th place in the ranking of the most searched song for its lyrics. Behind these triumphs, there is one music mastermind.
Congratulations on winning the VPCA 2021 Composer of the Year award, Pablo!
Produced by Village Pipol and Red Entertainment

Presented by Casino Filipino
Co-Presented by Sharp Philippines, Fleek Philippines and Tea Ni Juan
Major Sponsor by P-Charge, Anytime Fitness P. Tuazon and Anytime Fitness Radiance Manila Bay
Minor Sponsor by Grazeful Table, Bayong Republic, Chow Panda, and Jacko's Burger
Media Partners: GIZGUIDEPH, Iconic MNL and JourNYI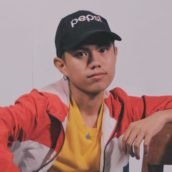 Renzneil Robles
Renzo is an introvert who prefers to do things at his own pace. Unlike most writers, he reads lazily. Watching Korean dramas at night is his constant source of comfort. Although oftentimes commended for being outspoken, he speaks better through writing than with his words.