Ken Suson is the VPCA 2021 'Fashion Influencer of the Year'
An unmatched sense of fashion and his growing influence is a formidable formula behind Ken Suson's thriving beyond just music.
In the recently concluded Village Pipol Choice Awards 2021, the main dancer of the country's leading quintet, SB19— brought home the Fashion Influencer of the Year title. Thus, deservingly pays tribute to how the well-liked Filipino idol is a trendsetter!
The Fashion Influencer of the Year is one of the individual acknowledgments under the Village Pipol Choice Awards' lifestyle category. The award recognizes the personality whose exquisite fashion content creation continues. Also, they should impact the opinion and behavior of their followers on social media.
SB19 Ken wins the VPCA 2021 Fashion Influencer of the Year
On March 26, Village Pipol unveiled the full VPCA results after the voting period that ended until March 05, 2022. Along with the opinions of the editorial team and a panel of judges, social media votes decided the winners.
Accumulating an all in all 98.5% score with a wide gap compared to his rivals, Ken landed a swift victory. Of course, the great help of his dedicated fans helped him stand out among five other candidates.
Looking back, it's not the first time the VPCA named him deserving of the title. Ken also won the VPCA's Fashion Influencer of the Year award in 2020. What started as the admirers' mere delight of his fashion style soon led him to even winning a prize.
In addition, last November 2021, Ken launched his clothing line called the Superior Son. With hands-on preparation and own designs he created, his premiere recorded a complete sellout after a few hours.
And while Ken has conquered the title for two consecutive years now, he might have to receive soon greater recognition. By the VPCA rules and his triumph history, he could seize the Fashion Influencer of the Year Grand Slam!
Indeed, Ken Suson is an absolute icon. Anytime, he can sway us in vogue and style as we surely fancy that. What more to say? Applause with swag to you, Ken!
Produced by Village Pipol and Red Entertainment

Presented by Casino Filipino
Co-Presented by Sharp Philippines, Fleek Philippines and Tea Ni Juan
Major Sponsor by P-Charge, Anytime Fitness P. Tuazon and Anytime Fitness Radiance Manila Bay
Minor Sponsor by Grazeful Table, Bayong Republic, Chow Panda, and Jacko's Burger
Media Partners: GIZGUIDEPH, Iconic MNL and JourNYI

Hosted by JV Cruz and Rain Matienzo
Presenter: Kyle Vergara, Joel Rey Carcasona, Mark Anthony Rosales, Bella Thompson, Bea Borres

Makeup | Raffy Francisco and Lee Aquino
Hair | Arthur Tolentino
Stylist | Jowie Namayan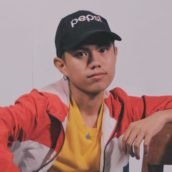 Renzneil Robles
Renzo is an introvert who prefers to do things at his own pace. Unlike most writers, he reads lazily. Watching Korean dramas at night is his constant source of comfort. Although oftentimes commended for being outspoken, he speaks better through writing than with his words.