VPCA HALL OF FAME: SB19, A'TIN, big winners of VP Choice Awards 2021
P-Pop blueprints SB19 and their fandom A'TIN reigned the lately concluded VP Choice Awards 2021. By winning all nominated categories, they also set records in the panorama of the prestigious award-giving body.
SB19 is a P-Pop idol supergroup comprised of Pablo, Josh, Stell, Ken, and Justin. Along with A'TIN (their strong fanbase), they have a surging relevance in the industry.
On March 26, VPCA unveiled its full results after an intense voting period. There, the duad of SB19 and A'TIN dominated evidently by bagging multiple awards!
Below is their winning trail:
Ken Suson as the VPCA 2021 Fashion Influencer of the Year
Ken is the main dancer of SB19. Apart from recently debuting solo through a self-written song Palayo, he became the CEO of his newly established clothing brand. Due to his flaring endeavor in fashion, VPCA 2021 named him the Fashion Influencer of the Year!
John Paulo Nase as the VPCA 2021 Composer of the Year
A music hotshot and singer-songwriter, John Paulo Nase is the leader of SB19. As the mastermind behind the songs that made it to virality or Billboard charts, his winning is no surprise. This time, he conquered VPCA's first-ever Composer of the Year for their hit-sentimental track, MAPA.
A'TIN for Fandom of the Year (Grand Slam)
Meanwhile, other than idols climbing success, the fans do the same to follow. Recently, A'TIN snatched the VPCA 2021 Fandom of the Year award with a showcase of passion and dedication. Ending up in a tie with DonBelle fans, they landed a grand slam.
SB19 for Group Performer of the Year (Grand Slam)
Lastly, SB19 lives up to being the P-Pop kings! Defending their Group Performer of the Year title, they remained unrivaled against other contenders. Hence, securing a thrice winning streak.
SB19 and A'TIN for VPCA Hall of Fame
As pavers of the way and the history makers that they are, SB19 and A'TIN have also secured a spot in the VP Choice Awards' Hall of Fame. Due to their grand slams, they are the first and only candidates to have made it in the elite circle so far.
Indeed, they are going nowhere but up. Congratulations to this powerful duo!

Produced by Village Pipol and Red Entertainment

Presented by Casino Filipino
Co-Presented by Sharp Philippines, Fleek Philippines and Tea Ni Juan
Major Sponsor by P-Charge, Anytime Fitness P. Tuazon and Anytime Fitness Radiance Manila Bay
Minor Sponsor by Grazeful Table, Bayong Republic, Chow Panda, and Jacko's Burger
Media Partners: GIZGUIDEPH, Iconic MNL and JourNYI

Hosted by JV Cruz and Rain Matienzo
Presenter: Kyle Vergara, Joel Rey Carcasona, Mark Anthony Rosales, Bella Thompson, Bea Borres

Makeup | Raffy Francisco and Lee Aquino
Hair | Arthur Tolentino
Stylist | Jowie Namayan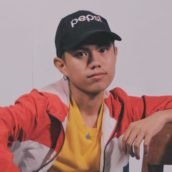 Renzneil Robles
Renzo is an introvert who prefers to do things at his own pace. Unlike most writers, he reads lazily. Watching Korean dramas at night is his constant source of comfort. Although oftentimes commended for being outspoken, he speaks better through writing than with his words.