Better Two-gether Love Sale: barenbliss Valentine's Promos
Two is always better than one and this Valentine's sale we are partnering up your favorite barenbliss product with its perfect match! Starting February 7-14 Valentine's Day 2023, barenbliss will offer up to 30% OFF on all its products! This includes vouchers, bundles, and exclusive deals.
Starting strong with barenbliss' Valentine's Exclusive Deal which is only available on Feb 14!
With a minimum spend of PHP 3,999 you get an additional 14% OFF!
You can also enjoy 12% Off from 10AM-12PM for barenbliss best sellers:
Fine to Refine Compact Powder
True Beauty Inside Cushion
Peach Makes Perfect Lip Tint
Full Bloom Transferproof Matte Tint
barenbliss Better 2-gether bundles:
barenbliss FINE TO REFINE COMPACT POWDER COMBINATIONS:
Match your favorite compact powder with the barenbliss True Beauty Inside Cushion, Kiwi Tin Lip and Cheek Tint, Peach Makes Perfect Lip Tint, Start Over Concealer or Full Bloom Matte Tints! An on-the-go girl/guy needs that perfect coverage and pop of color. Get these bundles and save 10% plus freebies!
barenbliss BASE GOT YOU COVERED:
Bundle #6 is the perfect pair for you, get your True Beauty Inside Cushion with the Soul Matte Loose Powder to cover up your base needs! With these two, your face will look so ever flawless and fresh throughout the entire day!
barenbliss PRETTY BUNDLE:
Not sure what to get? Well, this pair must be for you. It's the barenbliss True Beauty Inside Cushion matched with the Peach Makes Perfect Lip Tint. These two are the perfect pair because you would not need anything else. If you're looking for "no makeup" make up look essentials, these are your holy grails.
barenbliss BEAUTY BUNDLE:
Last but not the least, bundle 8 has more than 2 products in it because we want barenbliss to be your one stop shop!
Get your True Beauty Inside Cushion, Fine to Refine Compact Powder, Peach Makes Perfect Lip Tint, Spark-tacular Party Blush, Better than Magic Eyeliner, and Make Me Classy Eyebrow with freebies: Beauty Bag and Canvas Bag!
It's the best thing to complete your valentine's day, so better tell your significant other to add to cart now and or maybe treat yourself this Valentine's Day because you know you deserve it!
IMPORTANT NOTE: Gift with purchase minimum spend of PHP 2,599 and Bundle 8 GETS ONE FREE FULL BLOOM MATTE TINT (06 Sassy Season), Beauty Bag, Canvas Bag and Beauty Sponge
*Limited time offer – first 30 customers only.
See Also
Valentine Treats
But if you're not looking for a matched pair and just want something solo, you can get this Valentine Treat of getting up to PHP 140 OFF on selected items!
Cherry Makes Cheerful Lip Velvet
Berry Makes Perfect Lip Tint
Bloomatte Start Over Concealer
Soul Matte Start Loose Powder
Bloomatte Light it up Skin Tint
And if that is not enough, well you're up for some more treats! The Fortune Cookie Eyeshadow and Better Than Magic Eyeliner is now only for PHP 299!
So, what are you waiting for, send those request messages to your partners, friends, family members or even set an alarm for February 14! This SALE is only for this season, a season of love full of blissful surprises!
So what are you waiting for?! Make the Cupid's job easier and shop barenbliss now at any e-markets: Shopee Mall, LazMall or TikTok Shop
For more barenbliss content, feel free to visit our social media pages: Facebook and Instagram. You can also join the barenbliss Viber Group for more exclusive announcements and giveaways, click here: BNBae VIBER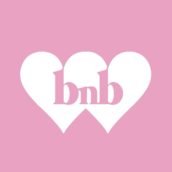 BNB Team
𝒃𝒂𝒓𝒆𝒏𝒃𝒍𝒊𝒔𝒔 (bnb) Beauty Lab was founded by the best scientist to create innovative products. Based on its scientific and pure formula, barenbliss combines natural and scientific ingredients, it removes all harmful ingredients and created the pure 𝑩+𝑵+𝑩 formula to create a new lifestyle that is suitable for all skin types, making this brand a makeup and skincare hybrid.