What if you have the chance to talk with your bias? How exciting is it when your ship of various K-pop groups finally sails? Also, would it not be fun to discover the other side of your idol? You will have the chance to see the life stories of your idols in different worlds, and these things are possible with social media AUs, also known as "Alternate Universe."
What is an Alternate Universe?
An Alternate Universe (AU) is a type of fan fiction where authors put their idols into a "new world" with different identities. In 'Fan Fiction and Informal Language Learning' by Shannon Sauro, he describes AU as a fan fiction story where authors change the personal details of popular characters.
Moreover, it is where there is a new narrative about the character that reflects the diversity of imagination and experiences.
AUs from Tumblr to Twitter, & Tiktok
The majority of the stories revolve around Harry Potter and are written in a narration style. Bringing the trend to Twitter, the AUs had a new style and creativity! The authors tell the stories through a tweet thread where they present the characters' profiles and the stories in edited screenshots of tweets, message conversations, and posts.
This type of storytelling adds fun to the plot as the characters seem to be real people with social media accounts that readers can access.
Gaining a lot of engagement, mostly from Kpop fans and with innovative storylines, the AU trend also came to TikTok on social media. Tiktok AU creators compile screenshots of social media AU into a video with some background music to make it more dramatic!
#PopularLiterature
A study about the AU's popularity and its effect on readership says that this type of digital literature became popular because it raises the imaginations of fans of their idols in different characters. Because somehow we all want to be involved in our idols' lives, right? It is a place where fans and idols are brought together, something that doesn't happen in reality.
The AU's language style, which is relatable and easy to understand for readers; the creative plot; and the opportunity for readers to talk with the authors to give some suggestions for the story are other reasons why it is popular.
An AU writer's POV
Shanaia Peada has been writing AUs since 2017 and she changes her writing style depending on the site she is writing for. From narrations of her fanfiction works on Tumblr, Archive of Our Own (AO3), and Asianfanfics, she then uses an epistolary style for her works on Twitter.
Her writing account @fairygyeom_beom on Twitter has her social media AUs with characters from members of the Kpop groups GOT7 and Red Velvet. Her first work is 'Which Witch', where K-pop idols become witches. Most of her readers are fans of both groups, who ship members from different groups.
The process of writing delights her every time she engages with the readers.
"The fun starts when I put the work out there and I receive comments guessing what will happen next."
She both writes in a narrative and social media style. The narration emphasizes dialogues and feelings, while the social media style makes readers the third parties in the story, giving them a wider view of the events.
Aside from writing AUs for her idols, Shanaia also wants her readers to see different facets of love; "every story has a purpose. I hope the lighthearted ones can ease just a bit of stress from them. I hope the heavy ones can be cathartic. "
Modern Storytelling
Alternate universe stories with a social media style have become a new way of storytelling. Its uniqueness has become very appealing to readers today. Have you read your idol's AU story? Tell us more about it!
You can read some AUs of your idols by just searching for a hashtag with the name of your idol/s with the word "AU" at the end.
Have fun reading!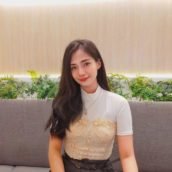 Veronica Louis Gannaban
Nica is a resin artist, watercolor painter, and writer. She loves putting art into life because it feels liberating. She believes that the most powerful form of art is through words, for it can set us free. Her life is sweeter than fiction because of Taylor Swift's music, fur babies, and chick flick movies.