The pandemic brought many lessons in life and one of them is taking good care of our pets. These furry creatures obviously helped us manage our stress and anxiety, keeping us sane and healthy. As a little treat for your dogs, why not have a weekend trip with them to Tagaytay?
Clean and scenic place for you and your dogs
Sky Ranch just opened the biggest and first-ever dog park in Tagaytay. In this park, your furry pets can play off-leash and enjoy the outdoors! The Royal Canin Paw Park at Sky Ranch officially opened last month, February 26 to be exact.
The Paw Park boasts of obstacles like weave poles, a see-saw, tire jump, wall jump, tube tunnel, dog walk ramp, and more. The management made sure that they are complying with the standards of the Philippine Canine Club, Inc.
Aside from the obstacles, there are Instagram-friendly dog houses so your fur babies can strike an adorable pose. After a tiring day full of activities, the park has a seating area your you to rest and relax.
For those who want to visit, the Royal Canin Paw Park is open from Monday to Friday, 10 AM to 7 PM. On Saturday and Sunday, it accepts visitors from 8AM to 8PM. You must bring a valid ID and go through contact tracing and health screening during admission. Also, there's an entrance fee of 100 pesos that already covers access to the main park of Sky Ranch and the Royal Canin Paw Park. Note that they are allowing guests 15 to 65 years of age to enter the premises because of the ongoing restrictions.
For more details, you can message Sky Ranch PH on Facebook.
Are you guys planning to bring your doggos this weekend? Make sure to take a lot of selfies with them and have lots of fun!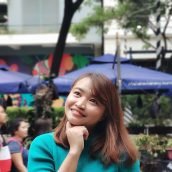 Queenie Lastra
Queenie Lasta got her bachelor's degree in Communications Research from UP Diliman. In her free time, she likes to read thriller novels, psychology books, and mangas. She believes in the importance of grit, hard work, and passion to become a great writer in the future.